Yuan Fixings Get More Extreme as Dollar Volatility Grows: Chart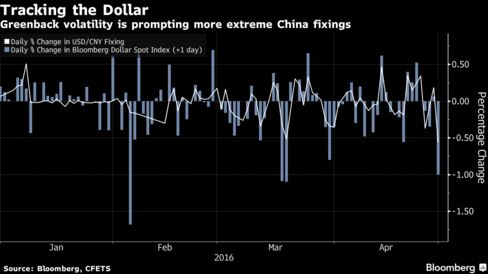 Increased volatility in the dollar against other major exchange rates is prompting China's central bank to make more extreme changes in the yuan's fixing. The reference rate was strengthened by the most on Friday since a dollar peg ended in July 2005 after a jump in the yen sent a gauge of the greenback's strength down 1 percent overnight. Even then, the 0.6 percent raising of the rate failed to match the extent of the dollar's plunge, according to Bank of Tokyo-Mitsubishi UFJ (China) Ltd.
Before it's here, it's on the Bloomberg Terminal.
LEARN MORE