Swiss Oppose Basic Income Initiative by Wide Margin, Poll Finds
72% against measure scheduled for June 5 vote: SRG survey

Initiators suggest unconditional monthly pay of 2,500 francs
The Swiss will probably reject a popular initiative to establish a basic income of about 2,500 francs ($2,600) a month, according to a poll for national broadcaster SRG.
Seventy-two percent were against establishing the unconditional stipend, which the initiators say would "enable the entire population have a decent existence and participate in public life," the survey found. Just 24 percent support it, while 4 percent were still undecided, had voting been conducted this month.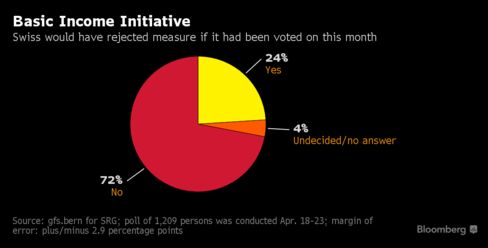 "Support for the 'no'-camp is expected to increase as the campaign progresses," pollster gfs.bern said in its survey for broadcaster SRG published on Friday. "This indicates a clear rejection on the day of the ballot."
The basic income vote will take place on June 5, with measures on the financing of automobile infrastructure and on curtailing the pay of executives at state-controlled companies also on the agenda. Plebiscites are a key feature of Switzerland's direct democracy, with votes typically held four times a year and topics ranging from abolishing military conscription to limiting immigration.
The text of the initiative doesn't stipulate exactly how high the monthly payout would be, though its proponents have suggested the figure of 2,500 francs per month for an adult and 625 francs for a child. Another open question is under what circumstances immigrants would qualify.
Backers of the plan argue the measure would cost 200 billion francs a year, which could be funded in part through current state social welfare programs. Opponents, including parliament and the government, say it would require a massive increase in taxes and create a disincentive to work.
Because the plan could even cause a shortage of skilled personnel, leading companies to relocate units abroad, "growth of the Swiss economy would be hampered," the government said in its position paper, published in August 2014.
The survey of 1,209 voters in Switzerland was conducted between April 18 and April 23 and has a margin of error of 2.9 percentage points. It is not a forecast of how the Swiss will vote in June but rather how they would have voted had balloting taken place this month, gfs.bern said.
Before it's here, it's on the Bloomberg Terminal.
LEARN MORE