EU's Lowest Unemployment Seen Feeding Czech Inflation: Chart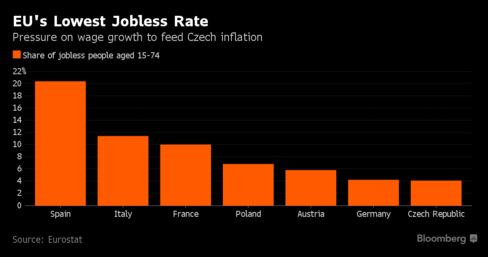 Robust economic growth helped push the Czech jobless rate to 4.1 percent in March, the least since 1996 and the smallest in the European Union. CSOB AS analyst Jan Bures in Prague says the country is increasingly facing a shortage of workers that will put upward pressure on wages and prices. That could help the central bank, which has capped koruna gains for 2 1/2 years to avert deflation, lift price growth toward its 2 percent target from 0.3 percent now.
Before it's here, it's on the Bloomberg Terminal.
LEARN MORE