Billionaire is largest holder, amassing 75.6 million shares

Phillips 66 reports first-quarter earnings on Friday
Warren Buffett has made $155 million this year from purchasing just one stock.
His Berkshire Hathaway Inc. has continued to add to its investment in oil refiner Phillips 66, which has surged as peers have faltered. The billionaire's company now owns a 14 percent stake in the company, the sixth-largest holding in its portfolio.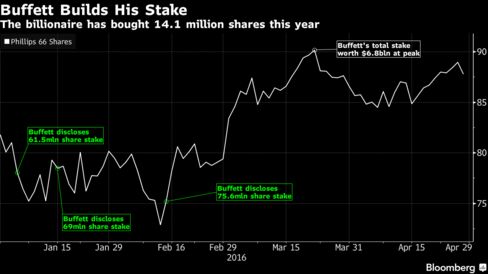 And Phillips 66 has been good to Buffett. It's gained 7 percent in 2016, the only stock in the BI North America Refining & Marketing index that's up for the year. Fellow refiners Valero Energy Corp. and Marathon Petroleum Corp., which surged in 2015 as the price of oil collapsed, are down 14 percent and 21 percent for the year, respectively.
Phillips 66's performance is partly because its crack spreads, or the difference between the cost of oil and the price of refined products, have declined less than that of its peers, according to Bloomberg Intelligence. The U.S. West Coast and North Atlantic margins may be the highest.
Buffett's Omaha, Nebraska-based company has been steadily adding to his holdings since August, when he first reported a $4.5 billion stake in the company. This year, he has spent about $1.08 billion on 14.1 million shares at an average price of $77.13, according to regulatory filings. As Phillips 66 has risen, those additional shares have netted $155 million, less the acquisition cost, based on Bloomberg calculations. His total stake in the company is worth $6.63 billion based on Thursday's closing price of $87.79.
Phillips 66, which operates 14 refineries in the U.S. and Europe, is scheduled to report first-quarter earnings Friday. Net income is expected to fall to $533 million, the average of eight analysts' estimates compiled by Bloomberg. The stock has eight buy, one sell and 10 hold recommendations from analysts.
Buffett previously invested in ConocoPhillips, which spun off Phillips 66 in 2012. Kraft Heinz Co. and Wells Fargo & Co. are Berkshire's two largest holdings, worth about $25 billion each.
Before it's here, it's on the Bloomberg Terminal.
LEARN MORE