Brazil's Top TV-Dinner Maker Sees Recovery After Earnings Miss
BRF rises even as Brazil recession, corn prices hurt results

Foodmaker reported worst quarterly profit since 2012
BRF SA, Brazil's biggest processed-food maker, posted the worst results in four years after what its billionaire Chairman Abilio Diniz called the most challenging scenario ever in the first three months of the year. The shares rose after executives said profit margins will recover.
The company, which makes more than 5,000 products from margarine to lasagna and is the world's largest poultry exporter, said late Thursday that net income slumped 92 percent from a year earlier to 39.1 million reais ($11.3 million). That trailed the 296.4 million-reais average estimate of five analysts surveyed by Bloomberg.
BRF struggled with a surge in domestic prices for corn used to feed its chickens combined with a supply glut that sent export prices down, Chief Executive Officer Pedro Faria told investors in a conference call Friday. Results were also hurt by a decline in sales volumes in Brazil amid a deepening recession, adding to a "perfect storm," Faria said.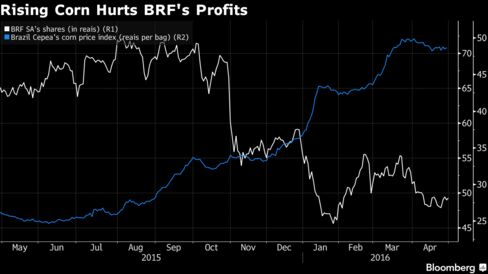 "Looking at the first quarter and talking to people that have been here for a long time, they tell me that we have never seen such a hard, challenging time," Diniz, who joined the company in 2013, told investors in the same conference call.
QuickTake Brazil's Highs and Lows
Brazilian corn prices surged 69 percent in the year ended March 31 amid an export boom following the depreciation of the real, according to price data from Cepea, the University of Sao Paulo's research unit. BRF's hedging contracts on the Chicago Board of Trade failed to protect it against that move as global prices moved in the opposite direction, Faria said.
BRF rose 0.5 percent at 1:10 p.m. in Sao Paulo, reversing a drop of as much as 2.8 percent amid optimism the headwinds the foodmaker faces are temporary. The Ibovespa benchmark gauge slumped 1.1 percent.
"We still consider BRF to be among the best assets in Brazil, protected by strong entry barriers," Gabriel Lima, an analyst at Bradesco BBI, wrote in a note to clients, reiterating his buy recommendation on the shares. The prospect of improving results in coming quarters drove share prices up after the conference call, he said by e-mail.
Executives said on the call that profit margins will recover over the coming months as BRF seeks to raise domestic prices to offset higher costs, and corn prices should fall amid higher domestic supplies. The company said it plans to implement a 7 percent price increase in Brazil next month.
"We have already seen an improvement in sales volumes," Faria said. "The second half will be a different story."
Before it's here, it's on the Bloomberg Terminal.
LEARN MORE