BASF Pruning Portfolio as Bigger Deal Eludes Chief Bock
Quarterly profit boosted by auto, building industry demand

Company reiterates 2016 forecast for drop in sales, profit
BASF SE Chief Executive Officer Kurt Bock pledged more pruning of the company's sprawling product range as larger targets have so far fallen short of the biggest chemical maker's acquisition criteria.
"I know there is some expectation that there must be a big deal in the offing, something impressive," Bock said to investors at the company's annual shareholder meeting in Mannheim on Friday. "You can be sure that we will rationally examine potential targets. We will continue to refine our portfolio in 2016."
Bock is reducing costs and streamlining divisions at a time when its two biggest U.S. rivals -- Dow Chemical Co. and DuPont Co. -- are planning to merge and split into three smaller and more focused companies. BASF has so far shied away from a big chemicals deal, instead selling peripheral operations such as industrial coatings and polyolefin catalysts.
There's been no "change in tone" when it comes to mergers and acquisitions, Chief Financial Officer Hans-Ulrich Engel said on a call with analysts. On bigger acquisitions, "we have always said that if there are any interesting opportunities we would certainly look at them." So far, there hasn't been any that have met BASF's criteria, he said.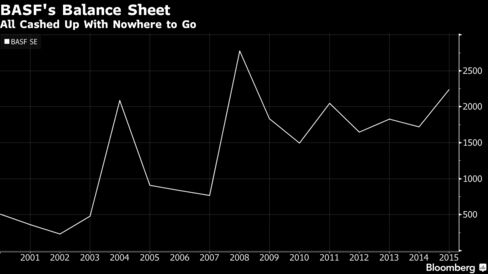 Earnings before interest, taxes and one-time items fell 8 percent to 1.91 billion euros ($2.18 billion) in the first three months, the Ludwigshafen, Germany-based company said in a statement Friday. Analysts had predicted 1.77 billion euros, according to a Bloomberg survey.
BASF shares gained as much as 2.5 percent in Frankfurt trading and were up 0.3 percent at 72.95 euros as of 2:09 p.m. local time. The stock has gained 3.2 percent since the beginning of the year, raising the chemical maker's market value to 67 billion euros.
Quarterly sales dropped 29 percent to 14.2 billion euros, missing an analyst estimate for 15.1 billion euros. BASF gave up 12 billion euros in annual sales in an asset swap with Gazprom last year, in which the German company exchanged a gas-trading business in return for stakes in gas fields in Siberia.
The world's largest chemical maker reiterated that profit and sales will fall this year as a lower crude price hurts oil-and-gas unit Wintershall, and customers hold back on orders for basic chemicals. The collapse in oil prices has already shaved 600 million euros off the value of Wintershall, cutting last year's ebit to the lowest since 2009.
Grace Deal
The sale of BASF's polyolefin catalysts business to W.R. Grace & Co. means the German company can sharpen its focus in growth areas such as chemical and refinery catalysts, the company said Thursday. The functional materials and solutions unit, of which catalysts is a part, grew ebit before special items by 6 percent in the quarter.
BASF is also in the process of selling a photoinitiators unit, making compounds for coatings and plastics.
Bock is assessing a more than 1 billion-euro investment project in the U.S. after a slump in oil prices. It doesn't make financial sense "right now" to build the factory that would convert methane to propylene in the U.S., Bock said, adding that the final decision is expected this quarter.
"BASF is very well placed to drive growth both internally and externally, given its strong balance sheet," Andrew Benson, an analyst at Citigroup, said in a note.
Before it's here, it's on the Bloomberg Terminal.
LEARN MORE