Atlantic City Stokes Ambiguity on Making May Bond Payment
City officials have conflicting statements on payment

Distressed gambling hub might run out of money in June
Atlantic City has raised the risk of a historic default as the distressed gambling hub seeks assistance from New Jersey. So far, Governor Chris Christie is treating it like a bluff.
After saying in March that the city would make the May 1 debt payments, Mayor Don Guardian said on Tuesday that he hasn't decided whether to meet the obligations totaling $1.8 million. It would be the first default for a New Jersey municipality since the Great Depression.
Council President Marty Small said Friday in an interview with Bloomberg News that based on his conversations with the mayor, "this particular payment will be made."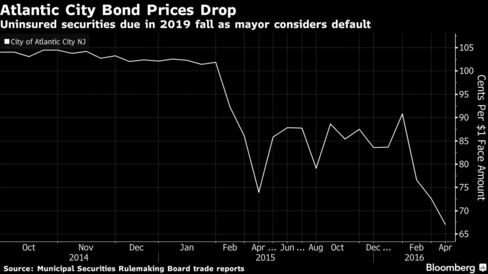 "The mayor will make a decision, and he will announce it when he does," Chris Filiciello, the mayor's chief of staff, said Friday.
He declined to comment on Small's statement. Then late Friday, the mayor's office said Guardian will hold a news conference Monday about the payment. Because May 1 falls on a Sunday, the city has until Monday to come through. Some of the securities are covered by bond insurance.
The city has little leverage beyond the knock to the state's historic reputation for assisting its struggling communities. Still, the threat of default hasn't appeared to galvanize Christie and state lawmakers, who have continued to trade barbs over their different approaches for rescuing the city.
Brian Murray, a spokesman for Christie, declined to comment on the threat of default. The state's Department of Community Affairs, which approves the city's budget, has declined to answer questions since the mayor raised the risk of default on Tuesday.
Atlantic City has struggled as the proliferation of legalized gambling undermined its tax base. The city, which saw a third of its betting parlors close in 2014, may run out of money in June. It has already lengthened worker pay periods to scrape by.
Before it's here, it's on the Bloomberg Terminal.
LEARN MORE