For more than a decade, the Communications Workers of America has been trying to unionize T-Mobile, the U.S. subsidiary of German giant Deutsche Telekom, which is now the third-largest U.S. wireless carrier. The campaign has so far won only two union contracts, covering about 30 of T-Mobile's roughly 45,000 employees. Now CWA is alleging to the National Labor Relations Board (NLRB) that T-Mobile has adopted an anti-union tactic that's been illegal since 1935: creating a company-controlled union to drain support for an independent one.
"It's a little bit flattering," says CWA organizer Josh Coleman, a former employee. "We have momentum; the company's trying to stop it by copying our union."
CWA says that in June 2015, Brian Brueckman, a T-Mobile senior vice president, sent employees an e-mail announcing "another big step to ensure your voice is heard" by management—the nationwide rollout of a group called T-Voice, composed of employee "representatives" from each call center, selected every six months by the company. "T-Voice is your voice," Brueckman wrote in his e-mail, the first of several messages to employees that CWA contends contradict federal labor rules.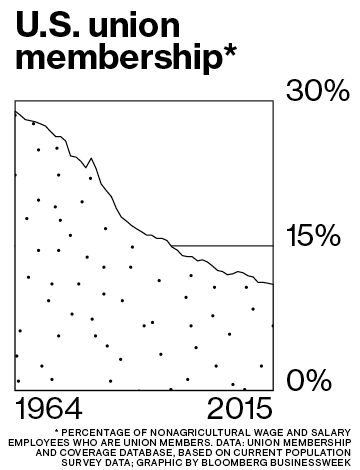 T-Mobile didn't respond to interview requests for this story. But in an e-mail last December, a company manager in Missouri described T-Voice as "a direct line for Frontline feedback to senior leadership" and said that T-Voice representatives would be bringing "pain points" from workers to management and "tracking and communicating resolution back to the team." T-Mobile also has cited T-Voice's input in e-mails to workers announcing perks such as spa days for longtime employees, free Wi-Fi, and cell phone charging stations.
"They're funding this sham union, and it is totally and absolutely illegal, and it is totally and absolutely nonsense," says CWA President Chris Shelton. "If they want to know what the problems are at T-Mobile, they could meet with folks who are elected by the people of T-Mobile and not by the CEO."
CWA alleges that in anti-union meetings employees are required to attend, managers are citing the existence of T-Voice as a reason workers don't need a union. "I find it insulting," says CWA supporter Angela Melvin, a customer service representative in Wichita. "Because again it's T-Mobile telling you what's best for you."
In complaints filed last year, NLRB lawyers alleged that T-Mobile violated federal labor laws by stopping employees in Albuquerque from discussing the union at work; by firing a worker in Bothell, Wash., for reporting safety concerns; and by prohibiting employees in Oakland, Maine, from discussing internal misconduct investigations. In March 2015 an NLRB judge ruled that 11 T-Mobile rules challenged earlier by CWA—including restrictions on workers communicating with each other and with reporters about workplace issues—violated federal law. "This is simply a ruling about a technical issue in the law that relates to policies that are common to companies across the country," T-Mobile said in a 2015 statement.
The CWA charge, filed in February and under investigation by the NLRB, says T-Voice is an illegal "company-dominated" labor organization, something Congress banned during the New Deal era. Back then businesses facing unionization efforts frequently responded by setting up their own pseudo-unions to sap support. "The idea was to take the wind out of the sails of employees who wanted a free union: 'Here, we've got a system of representation for you,' " says William Gould IV, a Stanford law professor emeritus and chairman of the NLRB under President Clinton. In the decades since, "company union" cases have become rare.
Some business groups have called for Congress to loosen the prohibition so it doesn't prevent good-faith efforts by management to get input from employees. "We don't want to have a situation where employees and employer aren't talking to each other," says attorney Marshall Babson, a former NLRB member who now represents employers. "Successful businesses that are communicating with their employees on a regular basis feel that in some senses they are walking on a tightrope on this."
But CWA counters that T-Mobile's gambit shows why the ban should stay in place. "This is the equivalent of allowing Mexico to choose the U.S. trade representative," says Jody Calemine, CWA's general counsel. "I think it's common sense that that is a conflict of interest."
The bottom line: The Communications Workers of America says T-Mobile has formed a company-controlled labor union, a type outlawed in the 1930s.
Before it's here, it's on the Bloomberg Terminal.
LEARN MORE