Spanish Lenders Slump as Businesses at Home Come Under Pressure
BBVA's Spanish banking unit profit dropped 24% in the quarter

Santander sees further pressure on Spanish net interest income
Spain's biggest banks saw their first-quarter profit eroded by falling interest income at home and unfavorable currency swings, overshadowing successes in improving solvency and reducing bad loans.
Banco Bilbao Vizcaya Argentaria SA and CaixaBank SA both reported earnings that missed analyst estimates on Thursday while Banco Santander SA, the country's largest lender, said a day earlier that profit fell 5 percent. All three reported steep slumps in their Spanish businesses.
Spanish lenders have been counting on trading income and higher fees to help offset the European Central Bank's record-low interest rates, which squeeze income from lending in Spain. However, volatile markets globally kept many traders on the sidelines in the first quarter, leading to a decline in transactions.
"Current interest rates are negatively affecting the evolution of the net interest income in Spanish banks as they have to reprice their credit portfolio at lower prices," Renta 4 analyst Nuria Alvarez said by phone. "This trend will still be there in the coming quarters."
BBVA's shares dropped as much as 9 percent, the most in 10 months, and were down 7.1 percent to 6.26 euros at 5:18 p.m. in Madrid. CaixaBank was down 3 percent after falling as much as 6.3 percent.
BBVA's Spanish banking business saw profit fall 24 percent in first three months of the year as net trading income slumped 77 percent. Santander said Wednesday that earnings at it's Spanish unit, that make for 15 percent of group's profit, fell 10 percent with net interest income there declining 14 percent.
"The results have been slightly below what we had expected and very much below what the market had in its consensus," BBVA Chief Executive Officer Carlos Torres told reporters on Thursday. Interest rates have put pressure on net interest income and lending volumes are lower in the U.S. and Spain.
BBVA's shares dropped as much as 9 percent, the most in 10 months, and were down 7.5 percent to 6.23 euros at 3:45 p.m. in Madrid. CaixaBank was down 2.9 percent after falling as much as 6.3 percent. Santander declined as much as 4.1 percent.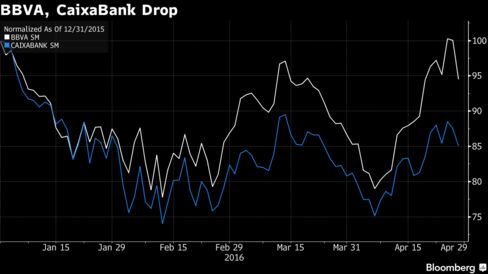 While BBVA and Santander are less dependent on the Spanish market than CaixaBank, both were hit by the Euro's strength against other currencies. Net income in Mexico, BBVA's biggest unit, dropped 7 percent from a year earlier in euros. It would have increased 10 percent if the peso hadn't weakened, the bank said. Santander's biggest business is in the U.K., where the pound has fallen against the euro. Profit excluding currencies increased by 8 percent, Santander said.
At Santander, common equity Tier 1, a measure of financial strength, rose to 10.3 percent from 10.1 percent at the end of 2015. BBVA's ratio climbed to 10.54 percent from 10.3 percent. The solvency ratio was unchanged at CaixaBank at 11.6 percent. Bad loans as a proportion of total lending dropped to 7.6 percent from 7.9 percent at the end of December, the bank said.
Before it's here, it's on the Bloomberg Terminal.
LEARN MORE