South Korea May Cap Issuance of Long-Term Bonds in 2017
Government wants to reduce the fiscal deficit gradually

Vice finance minister is aware of demand for 30-year bonds
South Korea may not increase issuance of long-term securities next year even though the government is aware that demand is rising, Vice Finance Minister Song Eon Seog said.
"The total amount of government bond issuance may be smaller as we're trying to reduce the level of the fiscal deficit," Song, said in an interview in Sejong, south of Seoul. "We're aware that demand is strong and the spread is narrowing, but we have to rethink about increasing the issuance of 30-year bonds just because demand is high."
Slowing economic growth and the adoption of negative interest rate policies in Japan and Europe have been driving life insurers and funds into South Korea's longer dated bonds.
The increasing demand is cutting the premium investors earn for holding 10-year bonds over 3-year notes to 35 basis points Thursday, narrowing from 17-month high of 75.5 basis points reached in June 2015, according to data compiled by Korea Financial Investment Association. Yields on 30-year notes, South Korea's longest maturity, were at 1.92 percent at Thursday's close.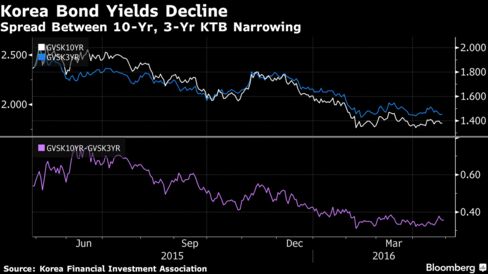 The plan for this year is to make 8 percent to 15 percent of total issuance in 30-year notes, versus about 11 percent in 2015. The ministry in December indicated that it may increase the proportion if there is demand for this. The total budget for KTB issuance is 110.1 trillion won ($96.7 billion) this year.
While the government's overall stance is for the proportion of longer-term debt will gradually increase, Song said he is unsure if this will be the case in 2017 because the overall size of the budget hasn't been confirmed. The government also needs to review costs as it could be more expensive to issue notes with longer maturities, according to Song.
South Korea's government debt is projected to climb to an all time high of about 40 percent of gross domestic product this year under a record budget of 386.4 trillion won. While the finance ministry expects a budget shortfall through 2019, its mid- to long-term plan is to balance the books.
Asked if the government will draft a supplementary budget this year, Song said it is not considering the option just yet as economic difficulties facing South Korea don't warrant this.
He described the trend of foreign investment in the bond market as "stable," and said there was little likelihood of a sharp outflow. Foreigners bought $3.2 billion more Korean debt than they sold this year, official data show.
Song is one of two vice finance ministers who report to the finance minister. He oversees the national budget and treasury. The other vice finance minister, Choi Sang Mok, is responsible for financial market policies and economic forecasts. A law graduate of Seoul National University, Song was a former chief of the ministry's budget office.
Before it's here, it's on the Bloomberg Terminal.
LEARN MORE