Portugal is willing to accept 10,000 refugees, hosts only 234

Economic health gap may lead migrants to greener pastures
Portugal has offered to host 10,000 of the refugees who've landed on Europe's shores from the globe's war-torn zones. So far, it has taken in 234.
Not because it doesn't want to. Rather, because few have come knocking at its door.
"It's difficult to quickly find refugees that can come to Portugal," President Marcelo Rebelo de Sousa said on Friday, according to news agency Lusa, as he met migrants in Evora, southern Portugal.
As the refugee crisis stretches the struggling Greek government and rattles politics in Germany and beyond, Portugal's willingness to share the burden isn't getting a lot of attention. While the country blames a lack of coordination in Europe and administrative roadblocks, the contrast between its economic performance and that of Germany, which admitted more than 1 million migrants in 2015 alone, may also be playing a role.
Although the Portuguese economy recovered in 2014 and accelerated last year after shrinking for three years through 2013, joblessness remains high. Unemployment, which has eased to 12.3 percent after peaking at 17.5 percent in 2013, is still almost triple the German rate of 4.3 percent, and that may continue to dent Portugal's allure.
"It's not a very appealing destination given the unemployment rate," said Rui Serra, chief economist at Caixa Economica Montepio Geral in Lisbon. "It's easier for an immigrant to go to the center of Europe where there is a more concentrated market than in some countries of the periphery like Portugal. In the center of Europe income per capita is higher."
Welcome Mat

Prime Minister Antonio Costa says there are structural problems in the euro zone that aggravate the disparities.
"That structural problem has to do with the asymmetry between the different economies," he said in Athens on April 11. "It's necessary to give a new impulse to the convergence of our economies with the more developed economies of the euro zone."
With the country's demographics in mind, the Portuguese government has laid out the welcome mat for refugees. Portugal's population has declined and aged every year from the end of 2011 to about 10.37 million at the end of 2014 as a weak economy has led many working-age residents to leave. Germany's population, while also aging, still increased overall every year in the same period.
Emigration Rises
Far from attracting migrants, Portugal has had trouble convincing its own people to stay put. Starting in 2011, the number of emigrants exceeded the number of immigrants in Portugal every year through 2014, according to the country's statistics institute.
Between 2009 and 2014, the proportion of young people -- 0 to 14 years of age -- decreased to 14.4 percent from 15.3 percent, and the working-age population -- 15 to 64 years of age -- fell to 65.3 percent from 66.4 percent.
Portugal has pointed to other reasons for its lack of appeal to refugees, including poor coordination in the EU and the scale of the crisis, with more than 1 million people flooding into the region through Greece just last year from countries including Syria, Afghanistan and parts for Africa.
"Portugal, unlike other European countries, never had a large Syrian, Afghan or Eritrean community, which may explain the fact that people awaiting relocation don't name our country as the first priority," Eduardo Cabrita, a minister overseeing the effort, said in an e-mailed response to questions. Cabrita went to an airport in Lisbon to welcome refugees arriving from Greece on March 7.
It's not just in Portugal that the planned relocation of refugees is falling short. Governments have made "unsatisfactory" progress following last year's promise to share between them 160,000 migrants who have arrived in Greece and Italy, the European Commission said in a report published on April 12.
Taking Aspirin
"The delay in the relocation program is owed to bureaucratic and logistic difficulties in the registration process," said Rui Marques, who heads the Platform to Support Refugees, which groups public authorities and private groups and companies. "There are also mechanisms of family regrouping that channel candidates to countries in which they may have relatives, and it's more probable that they have relatives in Germany or Sweden than in Portugal."
For Prime Minister Costa, meanwhile, the refugee issue needs to be set in the larger context of the region's economic disparities.
While the European Central Bank's debt purchase program has been beneficial in reducing interest rates, "in some countries more than in others," that doesn't mean that the differences between euro region economies have been addressed, he said.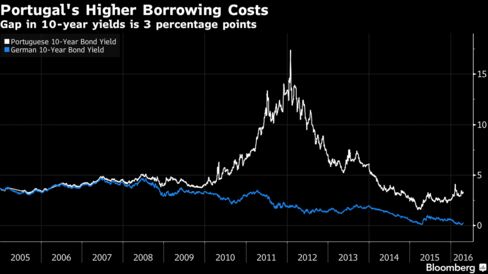 "It's as if someone who is ill and thinks that by taking an aspirin and lowering the fever, the illness has been cured," Costa said. "No: the fever has dropped but the illness is there. We have to treat the illness and the illness is called the enormous asymmetry that exists in our economies."
Before it's here, it's on the Bloomberg Terminal.
LEARN MORE