Greeks Get No Retail Therapy as Austerity Hits Pockets: Chart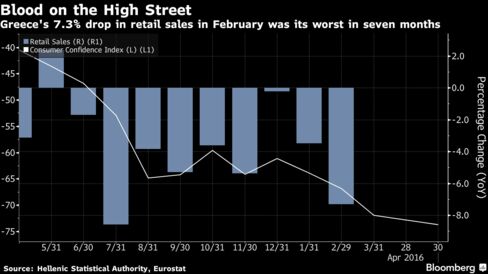 Greece retail sales posted a 7.3 percent annual drop in February, the biggest decline since July. Back then, bank closures, capital controls and a referendum culminated in a new bailout deal that stabilized economic sentiment. The rescue also brought tax hikes, spending cuts and, eventually, the current stand-off between Greece and the International Monetary Fund over even more austerity measures, to be automatically triggered if the country misses budget targets. That's left Greek consumer confidence dropping once more, which doesn't bode well for the retail outlook.
Before it's here, it's on the Bloomberg Terminal.
LEARN MORE