Dollar Bulls Crushed as Kuroda Joins Wheeler to Defy Easing Bets
Yen surges most in eight months against greenback after BOJ

Central banks losing ability to influence expectations: RBS
It was a painful day for dollar bulls as Haruhiko Kuroda and Graeme Wheeler defied bets for further policy stimulus, less than 24 hours after the Federal Reserve skipped an interest-rate increase.
The greenback tumbled below 110 yen after Bank of Japan Governor Kuroda held off on expanding monetary stimulus. The U.S. currency fell beyond 69 cents versus the New Zealand dollar after Reserve Bank chief Wheeler held the official cash rate at the record low of 2.25 percent.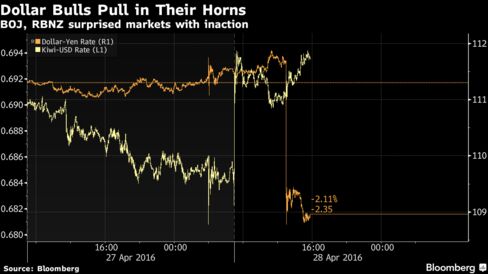 A gauge of the U.S. currency has slumped 5.1 percent this year as expectations weakened that the Fed would diverge from other major central banks by tightening policy aggressively. The euro strengthened against the greenback even after European Central Bank President Mario Draghi boosted the region's record stimulus last month. U.S. policy makers left open the door to raising interest rates in June after Wednesday's meeting by flagging improvement in global financial markets and downplaying recent weakness in the U.S. economy.
"With the Fed flip-flopping earlier this year and ECB easing unable to cap the euro, the G3 central banks are losing their ability to influence market expectations," said Mansoor Mohi-uddin, a Singapore-based strategist at Royal Bank of Scotland. "Investors will start to shift back to the Fed being the main driver of currencies if FOMC officials start to signal a June hike in the next few weeks after yesterday's less dovish Fed meeting."
The dollar plunged 2.7 percent to 108.49 yen at 10:20 a.m. in New York, set for its biggest drop since August. The U.S. currency, which reached an 18-month low of 107.63 on April 11, has slid 9.8 percent this year against its Japanese counterpart.
Hedge funds and other large speculators swung to betting on dollar weakness as of April 19 for the first time in almost two years. Positions that benefit from losses by the U.S. currency exceeded those that benefit from from a rally by a net 21,567 contracts, a report from the Commodity Futures Trading Commission showed.
BOJ Holds
The BOJ left unchanged three key easing tools -- the 80 trillion yen ($732 billion) target for expanding the monetary base, mostly through government-bond purchases, the 0.1 percent negative rate on a portion of the cash banks park at the BOJ, and a program to buy riskier assets including stocks. The move comes as a surprise to the slight majority of economists surveyed by Bloomberg who had projected some action from the central bank in response to a strengthening in the yen that has cast a shadow over prospects for higher wages and investment.
"What did disappoint us and the market is they didn't do anything," said Roy Teo, a senior currency strategist at ABN Amro Bank NV, in Singapore. "There is a risk of dollar-yen heading toward the recent lows of 108."
Wheeler Decision
The greenback tumbled 1.6 percent to 69.54 cents against its New Zealand counterpart, even after Wheeler said the RBNZ may need to cut interest rates further, as slowing global economic growth and a strong currency prolong a period of low inflation.
Traders had on Wednesday seen 58 percent odds the RBNZ would cut its key rate, data compiled by Bloomberg show.
The dollar is set to depreciate further toward 108 yen and 70 cents versus the kiwi in the coming week, said Sean Callow, a senior foreign-exchange strategist at Westpac Banking Corp. in Sydney.
"It may be too soon to call a trend, but today at least we have seen two examples of central banks reluctant to further loosen already generous monetary settings," Callow said. "It does fit the frequent central banker lament that monetary policy is being asked to do too much."
Before it's here, it's on the Bloomberg Terminal.
LEARN MORE