China Oil Champ Suffers First Loss as Refining Buoys Rivals
PetroChina's $2.1 billion loss poorest so far among oil majors

Rival Sinopec's profit tripled; BP, Total beat expectations
PetroChina Co., the biggest oil and gas producer in the world's largest energy user, posted a loss for the first time, falling to the bottom of the barrel among oil majors as refining profits kept rivals afloat. Shares led declines Friday among energy companies in Asia.
The Beijing-based company reported a 13.8 billion yuan ($2.1 billion) loss for the first quarter on Thursday, its first since it started trading publicly in 2000. Its state-owned peer, China Petroleum & Chemical Corp., the Asian oil refining behemoth known as Sinopec, said a few minutes later that profit over the same period tripled to 6.66 billion yuan.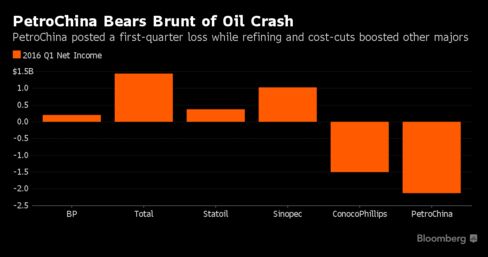 PetroChina in Hong Kong fell as much as 4.7 percent to HK$5.64 as of 10:20 a.m. local time on Friday. Sinopec lost as much as 4.3 percent, while Cnooc Ltd. slipped as much as 2.9 percent. The benchmark Hang Seng Index was down as much as 1.7 percent.
European oil companies BP Plc, Total SA and Statoil ASA beat analysts projections and posted first-quarter profits earlier this week as buoyant refining and trading arms, as well as cost-cutting, helped offset the lowest crude prices in more than 12 years.
"International oil giants including BP and Total have a much bigger presence in downstream refining and oil trading and can generate enough profit to offset their upstream losses," said Laban Yu, head of Asia oil and gas equities at Jefferies Group LLC in Hong Kong. "PetroChina, on the other hand, doesn't have a strong presence in refining and trading to shield it from the impact of plunging oil prices."
Global Glut
The average price of crude in the quarter slumped 36 percent from the same period the year before under a glut that stretched from U.S. shale basins to the Arabian peninsula to Siberian oil fields. A rapid recovery from this year's bottom amid signs of sliding supply may only partially help swing the balance back in PetroChina's favor, according to Neil Beveridge, a Hong Kong-based analyst at Sanford C. Bernstein & Co.
"An oil price rebound will help moving forward, but PetroChina just simply needs to do an awful lot more to improve the competitiveness and performance of the company," Beveridge said "Maybe some one-off asset sales will help, but they certainly need to work more aggressively in cost cutting as they are just lagging in terms of margins across the board."
Refining margins in China were supported in the first quarter after the government of President Xi Jinping decided to halt fuel price adjustments when oil falls below $40 a barrel. The policy boosted domestic margins during the period to $16 a barrel, a 45 percent increase from the same period a year earlier, according to researcher ICIS China.
'No Hope' Fields
PetroChina's oil and gas output is expected to fall for the first time in 17 years in 2016 as it shuts high-cost fields that have "no hope" of making profits at current prices, President Wang Dongjin said last month in Hong Kong. Operating profit from exploration and production in the first quarter swung to a 20.3 billion yuan loss from a 17.3 billion yuan gain. The 37 billion yuan change is roughly equivalent to its full-year 2015 net income.
Sinopec, Asia's biggest refiner, processed 57.2 million tons of crude oil (about 4.6 million barrels a day) during the quarter, compared with PetroChina's 33.7 million tons (about 2.7 million barrels a day), the companies said in separate earnings statements.
BP's downstream operations, which includes refining and trading, brought in $1.8 billion before interest and taxes in the quarter, helping overcome a loss in oil and gas production. The company's adjusted profits of $532 million smashed analyst estimates of a loss of $250 million.
Statoil ASA's cost cuts helped it eke out $122 million in adjusted earnings after tax, compared with an expected loss of $125 million based on forecasts of 12 analysts surveyed by Bloomberg. Total reported first-quarter profit of $1.64 billion on Wednesday, beating the average analyst estimate of $1.25 billion, as it cut costs, boosted production and benefited from resilient refining earnings.
Cnooc Ltd., the third China oil major, posted a 31 percent drop in quarterly revenue on Thursday, even as output rose 5.1 percent and capital spending was slashed by 39 percent. If the company had reported quarterly net income, it would have been a loss, said Yu at Jefferies in Hong Kong. "PetroChina and Cnooc are much alike as they are both strong upstream players and profit levels are closely tied to crude oil prices," Yu said.
— With assistance by Guo Aibing, Jing Yang, and Dan Murtaugh
Before it's here, it's on the Bloomberg Terminal.
LEARN MORE