With $330 Million Award, Doctor Tops Banker in 2015 CEO Pay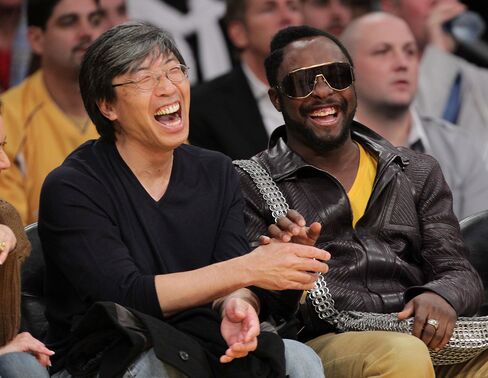 Soon-Shiong runs NantKwest, which went public last July

Investment banker Taubman is No. 2 after Blackstone spin-off
Patrick Soon-Shiong performed the world's first pig-to-man cell transplant to treat diabetes. He sold two drug companies, making enough to become a billionaire and buy a stake in the Los Angeles Lakers basketball team. Now Soon-Shiong can also add this distinction to his resume: the highest-paid U.S. executive of 2015.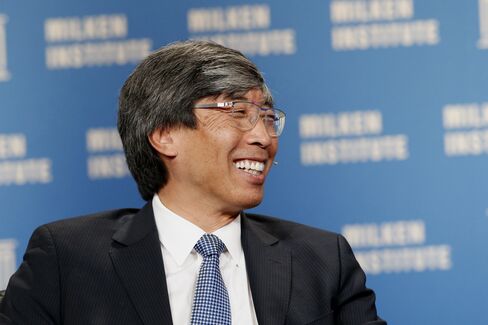 The 63-year-old physician received a $329.7 million pay package last year as chief executive officer of NantKwest Inc., a cancer-research firm that went public last July and has a market value of $715.5 million. That sum vaults him to the No. 1 spot on the Bloomberg Pay Index, a ranking of the top-paid executives at companies that trade on U.S. exchanges. Most of his pay stems from 19.4 million stock options granted before the initial public offering.
Dealmaker Paul J. Taubman is No. 2 on the list with $164 million in awarded pay, after merging his boutique bank with the advisory businesses of Blackstone Group LP and spinning off the combined business, PJT Partners Inc., in October. He's followed by Google Inc. CEO Sundar Pichai who received $151.9 million as he was tapped to run the search-engine unit of parent Alphabet Inc.
"You pay the Michael Jordans more because they're the Michael Jordans," said David Hofrichter, a senior partner at Aon Hewitt's executive compensation and governance practice.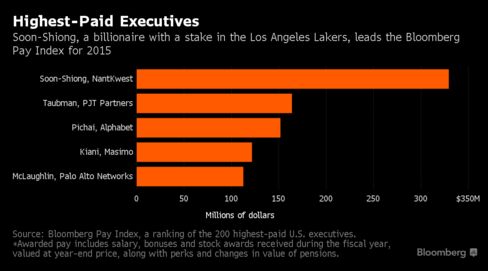 Tumor Fighter
Soon-Shiong paid $47 million in December 2014 for a 31 percent stake in NantKwest, which researches treatments that use the human immune system to fight tumors. Three months later, he was named chairman and CEO.
Most of his options have strike prices of about $2, according to a regulatory filing from the San Diego-based company. NantKwest closed at $8.73 on Wednesday, down 50 percent since year-end. Some of the options are tied to reaching goals, while the remainder vest through March 2019. His 2015 pay also included 600,000 restricted shares, a $386,301 cash bonus and $1 in salary.
Soon-Shiong is the world's 116th-richest person, according to the Bloomberg Billionaires Index. That's thanks in part to selling APP Pharmaceuticals Inc., which he founded, in 2008 and Abraxis BioScience Inc. in 2010. He bought a 4.5 percent stake in the Lakers from Earvin "Magic" Johnson in 2010.
Michael Sitrick, a spokesman for Soon-Shiong and NantKwest, declined to comment on his compensation.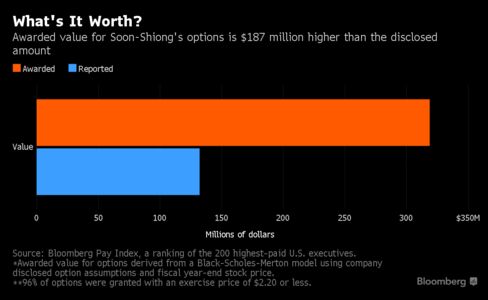 GoPro CEO
Soon-Shiong's pay package tops that of last year's highest-paid executive: GoPro Inc.'s Nick Woodman, whose big payday also came through an IPO. Woodman received restricted shares worth $285 million prior to the San Mateo, California-based camera-maker's debut on public exchanges. The value of the shares has since collapsed. In 2013, Cheniere Energy Inc. CEO Charif Souki came in first with $281 million. He sold $216 million of stock before being ousted from his role in December by activist investor Carl Icahn.
The Bloomberg Pay Index tracks the 200 highest-paid executives who appear in the filings of companies that submit proxy statements to U.S. regulators. Awarded pay, with equity grants valued at each company's fiscal year-end, can differ from what's reported in proxy filings.
NantKwest's proxy filing on Wednesday disclosed pay of $147.6 million for Soon-Shiong in 2015, mostly in options that were priced before the company's public offering. They were worth more than double the reported value by its 2015 fiscal year-end, according to the index.
Taubman, Pichai
Taubman, a former executive at Morgan Stanley and one of the world's most successful mergers-and-acquisitions advisers, received most of his compensation in exchange for his ownership interest in PJT's predecessor firm. About half comes from a stock award that pays out only if he can reach stock targets by 2021: PJT's chairman and CEO would receive one-fifth of the award if the price more than doubles to $48 and all of the 3.05 million units if it more than triples to $79. PJT closed Wednesday at $22.36.
Other than a $250,000 salary, the rest of Taubman's compensation is in the form of 2.75 million stock units that vest through 2019, regardless of the investment bank's performance.
Pichai's compensation consists mostly of restricted stock he received in January 2015 for his performance and increased responsibilities as the leader of Google's technical product areas. That award grew to $151.2 million by the company's fiscal year-end.
Masimo's Kiani
The former deputy to Google co-founder Larry Page has a good chance of remaining near the top of the Bloomberg Pay Index for 2016, thanks to a $199 million grant of restricted shares he received in February. That was the largest award ever given to a Google executive whose pay has been reported in filings. Alphabet Inc., the holding company that owns Google, typically grants equity to bosses once every two years. The index allocates half of Pichai's February award for 2016, and the other half for 2017.
Joe Kiani, the founder of medical device maker Masimo Corp., is No. 4 with $121.8 million. He was granted $112 million in stock that will pay out if he is terminated before 2018. The award was exchanged for benefits in Kiani's employment contract -- including guaranteed annual grants of options and a golden parachute -- after three years of negotiations. His pay doesn't include a $35 million cash award that would also be granted in an acquisition. Payout of the awards isn't probable, the company said. The payments are reduced by 10 percent annually beginning in 2018.
Palo Alto
Almost 95 percent of Kiani's pay "will only vest if there is a qualifying termination of his employment," Mark de Raad, Masimo's chief financial officer, said in an e-mail. Excluding that award, Kiani's compensation was $7.3 million, he said.
Palo Alto Networks Inc. Chairman and Chief Executive Officer Mark McLaughlin comes in at No. 5 with $112.7 million in compensation for 2015. Most of the pay came from 600,000 restricted shares that he received because his unvested equity holdings were "significantly lower" than those of CEOs in the company's peer group, according to an October filing.
Spokesmen for PJT, Alphabet and Palo Alto Networks declined to comment.
Before it's here, it's on the Bloomberg Terminal.
LEARN MORE