Podemos Could Be Spain's No. 2 Party After Next Election: Chart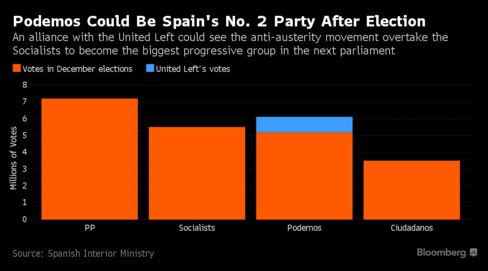 Anti-austerity party Podemos could be the biggest beneficiary of Spain's repeat elections in the summer as the group moves to seal an alliance with the former communists of the United Left. The two parties combined won 6.1 million votes in December's ballot, compared with 5.5 million for the Socialist party. If the deal is formalized, Podemos could become Spain's second-biggest political force, strengthening leader Pablo Iglesias's hand in negotiations to form a government. Polls suggest the voting may otherwise be little changed from December.
Before it's here, it's on the Bloomberg Terminal.
LEARN MORE