Near-Zero Growth Happens Often in Slow-Motion U.S. Economy
Sluggish first quarter would be third in as many years

Economists forecast gross domestic product to rise 0.6 percent
Here's one trademark of the slow-motion U.S. economic expansion: Near-zero growth in any given quarter is nothing to panic about.
For the third time in a row, the economy looks to have had an awful first three months of the year. Gross domestic product is seen advancing at a 0.6 percent annualized growth rate, according to the Bloomberg survey median. Yet if 2014 and 2015 are any indication, GDP will rebound in the subsequent quarter as consumer demand picks up and keeps the expansion moving ahead.
Rather than being a harbinger of a recession, a weak first quarter is emblematic of an economy that's stuck in a sluggish expansion, with average growth of 2 percent. It doesn't take much to knock the pace down below 1 percent before it bounces back. That's why Federal Reserve policy makers, meeting Wednesday, aren't abandoning plans to raise interest rates further.
"Get used to it," said Ethan Harris, co-head of global economics research at Bank of America Merrill Lynch in New York. "We're just a lower-growth economy now. Within the random noise of the data, in any given year, it'll be normal to get a near-zero quarter every year. It won't necessarily be the sign of something bad happening."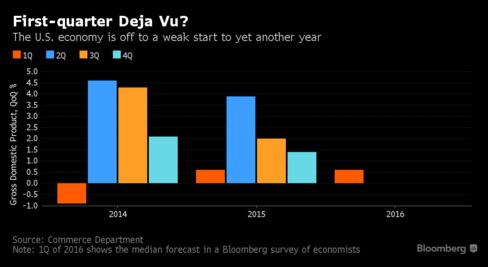 Sustained, strong hiring is a major reason why economists and some Fed policy makers view any weak first-quarter GDP numbers due out Thursday as an aberration. Payrolls grew by 209,000 per month during the period, well above the 157,000 average throughout the almost seven-year-long expansion.
"You can't argue with the job market," said Mark Zandi, chief economist at Moody's Analytics Inc. in West Chester, Pennsylvania. "It's just not consistent with an economy that is in trouble."
Goods Trade
Some economists revised up their tracking estimates for first-quarter growth after a report Wednesday showed the U.S. merchandise trade deficit shrank to its smallest in more than a year. The gap in goods trade narrowed to $56.9 billion and reflected the lowest level of imports in more than five years, according to the Commerce Department's advanced data.
Even as economists' first-quarter GDP estimates turned bleaker this month compared with their forecasts in March, the odds of a recession over the next 12 months fell to 15 percent from 18 percent, a Bloomberg survey showed in early April. The economy grew 1.4 percent in the final three months of 2015.
After the experience of the past two years, investors also appear less alarmed by expectations that the economy hit another early-year soft patch.
'Inured' Market
"We've seen this before," said Erik Weisman, a Boston-based money manager at MFS Investment Management, which oversees about $418 billion globally. "The first time around, these things are very troubling" but "the second time around, the market becomes inured."
In addition to restrained household spending, GDP last quarter was held back by weaker exports and the whittling away at inventories by companies. Also to blame is the so-called residual seasonality, which some economists believe causes first-quarter GDP to be persistently underestimated.
Such headwinds wouldn't matter so much if the economy's speed limit, the growth rate above which inflation tends to flare, hadn't softened to about 1.7 percent currently from 3.5 percent in the 1990s, according to BofA's Harris. That makes the situation ripe for sub-1 percent quarters to crop up more often. And that's what we're getting: He reckons GDP growth of 0.5 percent last quarter will recover to around 2.3 percent the rest of the year.
Weakness 'Exaggerated'
GDP data are more volatile from quarter to quarter than employment, cautions Jim O'Sullivan, chief U.S. economist at High Frequency Economics Ltd. in Valhalla, New York. Solid payrolls and low jobless claims indicate "no significant new slowing in the trend in GDP," and "the sudden weakness in GDP is exaggerated."
Some analysts are less sanguine. "We've seen a rotation of the weakness from the external sector and manufacturing to broader business investment, and now it seems to be influencing consumer spending and some other consumer indicators as well," said Laura Rosner, a senior U.S. economist at BNP Paribas in New York. "That rotation of the weakness is something we need to watch."
The Fed
Fed officials will give their take on the economy later on Wednesday in a statement released after two days of discussions. No change in policy is expected.
In April of last year, the Fed partly blamed the winter slowdown on "transitory factors."
Weisman said what's key for policy makers is how the economy performs ahead of their next meeting on June 14-15.
About 60 percent of the data on the current quarter will be available by that point, and "if it still looks awful, it'll be very difficult for them to raise rates unless we are also seeing measures of inflation really rear their head, and I think that is unlikely," Weisman said. "My sense is they'll gloss over the first-quarter numbers at first blush, but not second quarter."
For now, most economists are downplaying the first-quarter slowdown and betting on a pickup in GDP growth along the lines of what's happened in the past.
"How many times do we have to go through this to realize this is not meaningful?" asked Neil Dutta, head of U.S. economics at Renaissance Macro Research LLC.
Before it's here, it's on the Bloomberg Terminal.
LEARN MORE