Deluge of Brazil Sugar Supplies Sends Futures Tumbling in N.Y.
Center-South mills triple sugar output in first half of April

`We had extremely favorable conditions,' industry group says
Raw-sugar futures slumped amid surging output in Brazil, the world's biggest producer and exporter.
Brazilian mills in the Center-South region more than doubled the amount of sugar-cane crops they processed in the first half of April and more than tripled their output of the sweetener, Sao Paulo-based industry group Unica said Wednesday. Production figures were higher than average analysts' estimates in a Bloomberg survey.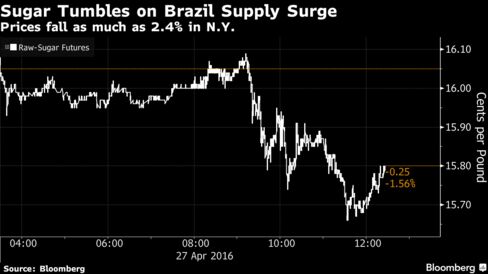 The country's harvesting season kicked off on April 1, and some processors started collecting crops earlier to take advantage of higher domestic sugar prices and favorable weather. There were 205 mills in operation across the area by April 15, up from 165 a year earlier, Unica said. Raw-sugar futures have dropped more than 5 percent since touching a 17-month high in late March as Brazil's accelerating harvest eclipsed concerns over drought in other parts of the world.
"We had extremely favorable conditions for the crush in first half of April, a condition we don't expect to see again throughout the crop," Unica's technical director Antonio Padua Rodrigues said in a statement.
Raw sugar for July delivery fell 1.3 percent to settle at 15.84 cents a pound at 1:04 p.m. on ICE Futures U.S. in New York, the first loss in three days.
Unica data showed that the sugar content per ton of cane, known as ATR, surged 6.7 percent from a year earlier. Processors used 41 percent of the cane to make sweetener, rather than ethanol, compared with 31 percent in 2015. In the season started this month, Center-South sugar output may rise to as high as 35 million metric tons, compared with 31.2 million the previous year, the group said.
"The mix was very aggressive," and "the ATR has not been this high for this time of year, and shows the positive effect of dry weather," Michael McDougall, a senior director at Societe Generale SA in New York, said in a telephone interview.
Before it's here, it's on the Bloomberg Terminal.
LEARN MORE