Aussie's Rally Seen Ending as Pressure Grows on RBA to Cut Rates
`A pre-emptive May cut' is now a real possibility: Macquarie

Swaps traders boost odds on May rate cut to about 60% from 20%
The Australian dollar's days as one of the best-performing developed-market currencies are ending.
The Aussie is set to extend declines after tumbling Wednesday as pressure grows on Reserve Bank of Australia Governor Glenn Stevens to cut interest rates following weaker-than-expected inflation data, according to Macquarie Bank Ltd. and Royal Bank of Scotland Group Plc. Swaps traders shifted expectations for a reduction in rates at the next meeting on May 3, placing about 60 percent odds on lower rates, from less than 20 percent Tuesday. Options traders have become more bearish on the Aussie, sending the premium on contracts to sell the currency in a month rising to the most in five weeks.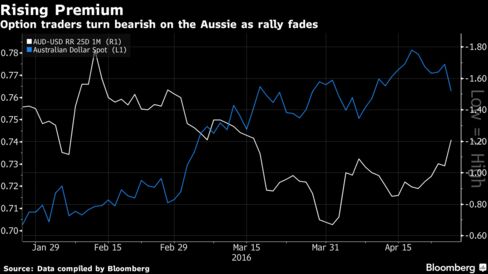 The Aussie has been the best performer among Group-of-10 peers after the Canadian dollar over the past three months as Stevens signaled a reluctance to ease further and his U.S. counterpart, Janet Yellen, indicated the Federal Reserve wasn't in a hurry to raise rates. Hedge funds betting on the currency's gains have outnumbered those expecting declines since the middle of February, as the price of iron ore, Australia's biggest export earner, rebounded.
'Pre-emptive May Cut'
"A pre-emptive May cut is surely now a real possibility," said Gareth Berry, a foreign-exchange and rates strategist in Singapore at Macquarie Bank. "At the latest, an August cut is now inevitable. That spells the end of this three-month old Australian dollar rebound, and the downtrend can now resume in earnest."
The Aussie tumbled 1.9 percent to 76.05 U.S. cents at 11:45 a.m. in London, set for its biggest drop since Aug. 24. Wednesday's plunge has pared its gains versus the greenback in the past three months to 8.2 percent.
Australia's core inflation slowed to the weakest on record as headline prices unexpectedly fell last quarter. The RBA looks at two core inflation measures -- trimmed mean and weighted median. The trimmed mean consumer price index rose 1.7% year-on-year and the weighted median climbed 1.4 percent -- both at record lows. The RBA targets annual inflation of between 2 percent and 3 percent on average.
Rate Cut Risks
The central bank has said at recent policy meetings that slow inflation would provide scope for further easing "should that be appropriate to lend support to demand."
"The much weaker-than-expected CPI report materially increases the risks of the RBA cutting rates again," said Mansoor Mohi-uddin, a Singapore-based strategist at Royal Bank of Scotland. "The Australian dollar is now likely to trade weakly into next week's RBA decision."
Options traders are now paying a premium of about 1.27 percentage points for one-month contracts to sell the Australian dollar against the greenback over those allowing for purchases, the most since March 11, risk-reversals data compiled by Bloomberg show. On April 1, the premium was 0.67 percentage point, the least in almost two years.
The RBA is trying to kick-start a revival in industries outside mining, where an investment boom is halfway through unwinding. A depreciation of the currency in 2015 aided that effort: the economy recorded its best quarter of jobs growth on record in last year's final quarter and unemployment dropped to a 2 1/2-year low in March.
"At the very least, it is a heavy blow for a spec market very long Australian dollars and it will weigh on the Aussie at least until the meeting," said Sean Callow, a senior foreign-exchange strategist at Westpac Banking Corp. in Sydney. "Short-term risks are for a test of 76 cents, but if the RBA remains on hold on Tuesday, which is our view, then the Australian dollar can bounce."
Before it's here, it's on the Bloomberg Terminal.
LEARN MORE