Adidas Lifts Profit Forecast Ahead of Euro Soccer Tournament
Second forecast increase in three months provides new boost

`Momentum in the business looks to be accelerating': analyst
Adidas AG raised its full-year profit forecast for the second time in less than three months after first-quarter results beat its own expectations as consumers snapped up sneakers ahead of the Euro 2016 soccer tournament.
Net income from continuing operations will rise 15 percent to 18 percent this year, more than a prior range of 10 percent to 12 percent, the Herzogenaurach, Germany-based company said in an unscheduled statement Wednesday. The shares rose as much as 6.9 percent to a record high.
The increased forecast, which Adidas said was helped by more effective marketing, gives a further boost to incoming Chief Executive Officer Kasper Rorsted. Rorsted is due to join from Henkel in August, right before the start of the Olympic Games in Brazil. Along with the Euro 2016 championships in France and the Copa America soccer tournament in the U.S., the games will help drive demand for sneakers and sportswear.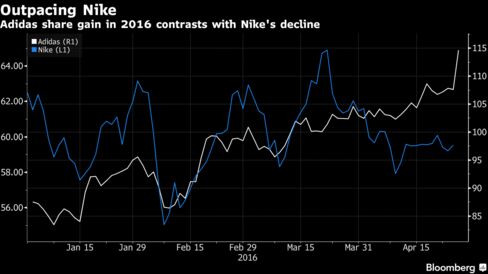 "Momentum in the business looks to be accelerating," Graham Renwick, an analyst at Exane BNP Paribas, said in a note. "Sportswear remains a very attractive sector, and there are signs that the Adidas strategy is starting to deliver."
Adidas shares were up 6.8 percent at 114.95 euros as of 11:06 a.m. in Frankfurt, extending the stock's gain this year to 28 percent, and reaching their highest point since November 1995, when the company went public. By contrast, larger competitor Nike Inc. has fallen 4.7 percent.
Adidas's X and Ace soccer cleats and more casual streetwear sneakers are performing well, said Cedric Rossi, an analyst at Bryan Garnier & Co., who recommends buying the shares. "All these products clearly have higher margins than average," he said.
The increased forecast reflects strong brand momentum and better-than-expected first-quarter results, an Adidas representative said. Revenue in the quarter rose 17 percent to 4.8 billion euros, beating the 4.5 billion-euro average estimate of nine analysts. The company will provide more details when it reports full results on May 4.
Adidas's new NMD streetwear sneaker featuring a woven upper and bouncy sole, may have sold 450,000 pairs since its debut in March, Juergen Kolb, an analyst at Kepler Cheuvreux, said in a note.
Before it's here, it's on the Bloomberg Terminal.
LEARN MORE