Heiwa Real Estate developing two buildings in new Tokyo hub

Company meets resistance on seeding fund; tax cut unlikely
In the heart of Tokyo's old financial district, a small developer has a big plan to bring investors back to Japan.
Heiwa Real Estate Co. is building two skyscrapers on land near the city's stock exchange and wants to fill them with hedge funds and other asset managers. On the surface, the project has state support: It's part of the Tokyo Global Financial Center redevelopment, and located in one of Prime Minister Shinzo Abe's strategic zones, where regulation is lighter.
And yet, the landlord's top idea for attracting investors -- giving them state pension money to oversee -- is proving unpalatable. Not only that, lower corporate tax rates in the zone aren't likely anytime soon. Heiwa's headaches underline the challenge Abe faces in reviving the finance industry in a society that's loath to give it special treatment.
"To tell the truth, it's making me depressed," Tomoharu Nakao, a managing officer at Heiwa, said in an interview in Tokyo. "But we just have to keep going."
Lower Rents
Heiwa, which started after the second world war by leasing property to Japan's equity bourses, is aiming to open the buildings in 2020, the year of the Tokyo Olympics. Both have been nominated to be urban development projects within the National Strategic Special Zone, which means planning approval takes less time and regulations on building size are relaxed, allowing Heiwa to offer lower rents to tenants.
That may not be enough. Investment banks including Royal Bank of Scotland Group Plc and Barclays Plc have been cutting staff and operations in Japan, while the number of hedge funds has remained stagnant over the past four years even as it roughly doubled in Hong Kong and Singapore. It's partly down to a corporate tax rate of 33 percent last fiscal year, compared with 17 percent in both of those cities, which also offer less red tape and closer proximity to China.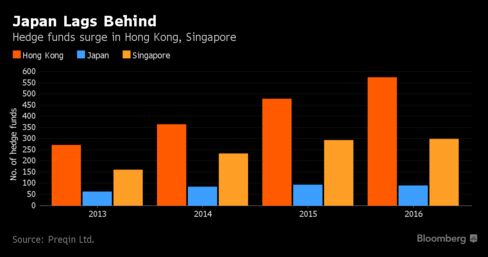 The centerpiece of Heiwa's plan, attracting startup fund-management firms from home and abroad by offering them seed money from pension funds, isn't gaining any traction. Japan's giant retirement managers, such as the $1.3 trillion Government Pension Investment Fund, understand the logic of a program to foster new investors, according to Nakao. It may help their own returns in an era of negative interest rates. But even if they want to stump up cash, there are several reasons why they can't, he says.
Rules, Perceptions
The first is rules. While GPIF decided in October 2014 to allocate as much as 5 percent of holdings to alternative assets, its investment committee has said this only applies to private equity, real estate and infrastructure, the fund's president, Norihiro Takahashi, said in an interview.
"Hedge funds are one step beyond what we're doing in alternatives," Takahashi said. "I completely get the purpose, but it's difficult for us right now."
The second is perceptions. Japan's state pensions are already under fire for posting losses after they cut bonds and replaced them with stocks. Getting public support for the idea of investing in hedge funds isn't easy, Nakao said. That's especially true because people see the financial industry as for the rich and somewhat fraudulent, he said.
Emerging Managers
Third, the idea of giving pension money to up-and-coming hedge funds is foreign in Japan, unlike in the U.S., where retirement managers have been doing this for years. The New York State Common Retirement Fund, for instance, has been allocating funds to emerging-manager programs since 1994. Temasek Holdings Pte, Singapore's state-owned investment company, also finances such seeding.
Japan's retirement funds "aren't accustomed to placing money with small managers they've never heard of," Nakao said. "Even if they're thinking about it, there's also the aspect that the environment around them wouldn't allow it."
Many people overseas ask whether the corporate tax rate will be reduced in the special zone, according to Nakao, who said there's opposition to giving financial firms preferential treatment. The finance ministry is also against cutting levies because of the size of the nation's budget deficit, according to Tomoaki Iwakura, a senior manager of development planning at Heiwa. It wants to see evidence that any cut in taxes would have an economic effect, he said. The ministry declined to comment.
No Prospect
"In a direct contest with Hong Kong and Singapore, you can't avoid the tax issue," Nakao said. "At this stage there's no prospect of the tax being cut. We have no intention of giving up. We are trying, so I don't want to say we can't do it, but it doesn't look like we can."
Faced with these obstacles, Heiwa is talking up other plans to make the buildings attractive. As well as providing lower rents, it's in discussions with officials on making it easier for hedge funds to get licenses in Japan. It can currently take years, as opposed to months in other markets, Nakao said. Funds also need more people on the ground to set up in Japan, because the law is unclear about whether they can outsource middle-office functions. Nakao says Heiwa is trying to get that changed.
Heiwa shares rose as much as 4.9 percent and closed 0.5 percent higher at 1,377 yen in Tokyo on Thursday. The Topix index declined 3.2 percent.
English Support
Meanwhile, the Tokyo government is moving to make the planned new financial center easier for non-Japanese speakers to navigate. In New York this month, Tokyo Governor Yoichi Masuzoe said he was planning a concierge service to help firms apply for licenses and go through the process with regulators.
Still, Nakao says the ability to offer fund seeding will be key, and his team is frantically trying to come up with potential backers. More broadly, he says, people need to realize how grave the hollowing out of Japanese finance is before anything will change.
"When we make the comparison with Singapore and Hong Kong to various people, many say Japan is different," Nakao said. "They say Japan has actual domestic industries. But foreign companies are rapidly downsizing their Japanese operations. People need a bit more of a sense of crisis. The society has to become more aware. Without that we'll never overcome these obstacles."
Before it's here, it's on the Bloomberg Terminal.
LEARN MORE