Winners and Losers From Australia's $39 Billion Submarine Deal
Australia snubbed bids from Germany and Japan to award a A$50 billion ($39 billion) contract to build 12 submarines to France's DCNS Group in one of the world's biggest defense deals. Below are the winners and losers of the day.
WINNERS:

1) Australia's Government

With federal elections looming on July 2, Prime Minister Malcolm Turnbull's government has much to gain by ensuring the submarines are built locally. The project will generate 2,800 jobs and help ensure the nation's naval shipbuilding industry survives. Polls show the election will be close, and Turnbull's pledge to use local steel at a time when manufacturing is in decline could also shore up votes. Diplomatically, choosing France over Japan may help Australia avoid complicating relations with its largest trading partner: China.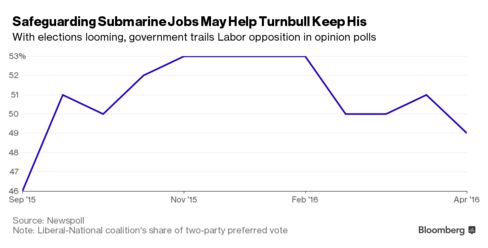 2) Francois Hollande
This latest military export gives President Francois Hollande some temporary relief. His disapproval rating stands at a staggering 87 percent, and he faces strikes and demonstrations on a weekly basis against his economic and labor policies. Defense Minister Jean-Yves Le Drian said Tuesday that the contract would create "thousands of jobs" in France, mainly in the region of Brittany where DCNS's shipyards are located.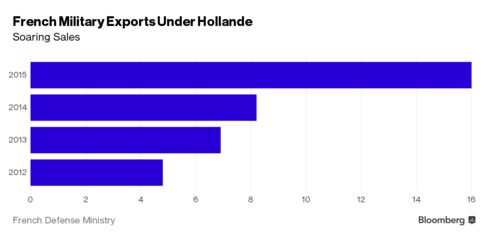 3) French Companies
Submarine maker DCNS is controlled by the French government and is 35 percent owned by Thales SA, a French defense company specializing in electronics like sonar. Thales is in turn 24.8 percent owned by Dassault Aviation SA, which makes combat jets. Plane-maker Airbus Group owns a 23.6 percent stake in Dassault. Thales and Dassault shares rose Tuesday. Many small companies, making everything from classified navigation tools to beds, also stand to benefit from the deal.
LOSERS:

1) Shinzo Abe
Japanese Prime Minister Shinzo Abe faced down fierce public opposition as he set about loosening the restrictions of Japan's seven decade-old pacifist constitution amid a territorial dispute with an increasingly assertive China. As part of that strategy, abandoning a ban on weapons exports in 2014 was meant to help build defense partnerships with other countries, as well as to help nurture Japan's defense industry, whose exclusive focus on the small domestic market has resulted in high prices.

2) Thyssenkrupp, Siemens

Shares in Thyssenkrupp AG fell as much as 5.1 percent in early trading in Frankfurt, the steepest intraday decline in 3 weeks. Analysts said it's "disappointing" that the company missed out, while it also means avoiding the "major risk" involved in such big orders. Industrial conglomerate Siemens AG also misses out on supplying the related propulsion systems and software.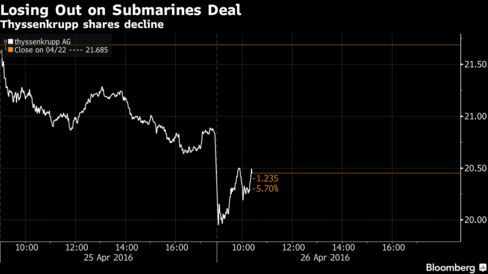 NET NEUTRAL:

Japanese Defense Companies
Jetsuo Kotani, senior fellow at the Japan Institute of International Affairs, said that Japanese companies such as Mitsubishi Heavy Industries Ltd. and Kawasaki Heavy Industries Ltd. did not go flat-out to win the contract. "Neither Japanese defense companies nor the Maritime Self-Defense Force were very willing to provide sensitive submarine technology," he said. "They didn't even want to provide secrets about our submarine technology to the U.S."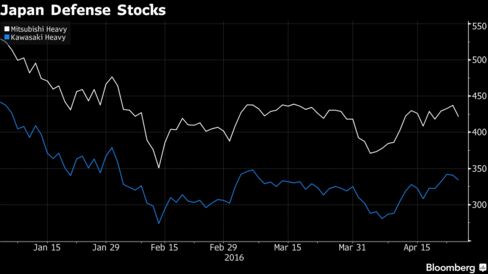 Before it's here, it's on the Bloomberg Terminal.
LEARN MORE