Treasuries Rise With Stocks as Fed Stays Patient, Crude Rallies
Dollar ekes out small gain while Kiwi jumps as rate held

Apple's post-earnings selloff drives tech stocks lower
Treasuries rose for the first time in eight days and U.S. stocks advanced, while the dollar meandered as the Federal Reserve reiterated it will boost interest rates at a "gradual" pace even as signs of improvement in the labor market mount.
The Standard & Poor's 500 Index erased declines following the Fed's post-meeting statement, closing higher for a second day, while the Nasdaq 100 Index sank as Apple Inc. tumbled the most since January. Facebook Inc. surged in after-market trading as the company's earnings beat estimates. The Bloomberg Dollar Spot Index edged up 0.1 percent after a two-day slump, while New Zealand's currency jumped after the central bank kept rates unchanged. Treasuries advanced, pushing 10-year yields to 1.85 percent. Crude oil climbed above $45 a barrel in New York for the first time since November.
"They've reassured the market it's going to be a slow and gradual pace and that they expect the economy to improve moderately," said Michael Arone, the Boston-based chief investment strategist at State Street Global Advisors' U.S. intermediary business. The firm oversees $2 trillion. The Fed statement "was about as expected and they made their comments as wide in scope as possible and as a result there's not much you can grasp onto to say they're going to change their path," he said.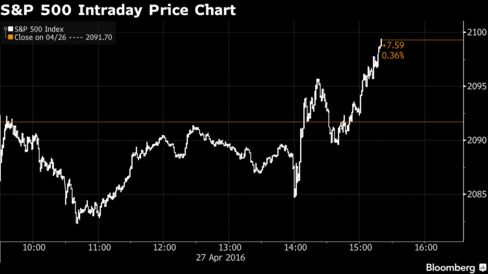 U.S. policy makers are weighing when to tighten policy again after raising rates in December for the first time in almost a decade. Central-bank optimism over economic growth and inflation may renew policy divergence between a tightening Fed and officials overseas. The Federal Open Market Committee omitted previous language on global economic and financial developments continuing to pose risks, instead saying they will "closely monitor" the situation, according to a statement released Wednesday following a two-day meeting in Washington. The Fed left its benchmark interest rate unchanged.
"Looks as if we will continue with the 'slower growth, lower rates for longer' scenario," said Chris Gaffney, president of EverBank World Markets in St. Louis. "Nothing here would indicate a June hike is any more likely than before the statement. Markets are still predicting a 'hold' in interest rates until the end of 2016."
The Fed's indication at its March meeting that rates won't be increased as fast as previously forecast helped U.S. stocks erase their worst start to a year on record, sparking a rally in Treasuries, while depressing the dollar. Since then, evidence has mounted of a pick-up in the economy and inflation has firmed. The S&P 500 has advanced more than 3 percent in that period, though it's been mired near the 2,090 level since rising within 1 percent of an all-time high on April 20.
Stocks
Earnings have also set the tone on global equity markets this week. The world's three most valuable companies -- Apple, Alphabet Inc. and Microsoft Corp. -- have all released disappointing results in the past week, weighing on investor sentiment amid ongoing concern that global growth is slowing.
"Where investors are right now is we went through half of the companies reporting earnings, and a lot of those companies have said that the economy is improving," said John Bailer, senior portfolio manager at The Boston Company Asset Management which oversees $40 billion. "If we get slow rate hikes, one or two this year, with the improving data, the market would be just fine with that."
The Nasdaq 100 slumped 0.8 percent as of 4 p.m. in New York, paring a drop of as much as 1.6 percent. Apple sank 6.3 percent amid waning demand for the iPhone. Twitter Inc. tumbled after forecasting current-quarter revenue that will fall short of analysts' estimates. Boeing Co. and Verizon Communications Inc. helped buoy the Dow Jones Industrial Average, which climbed 0.3 percent.
Facebook, owner of the world's largest online social network, climbed more than 8 percent in the post market after posting sales and profit that exceeded analysts' estimates. Rival Twitter Inc. tumbled 16 percent in ordinary trading after it forecast second-quarter revenue that will fall far short of current estimates.
The MSCI Emerging Market Index climbed 0.1 percent as energy producers climbed.
Futures on Asian indexes signaled gains across the board for Thursday, with contracts on Japan's Nikkei 225 Stock Average and Australia's S&P/ASX 200 Index up at least 0.8 percent in most recent trading.
Bonds
Bonds gained for the first time in eight days, snapping their longest slide since 2014, after the U.S. federal funds rate target was held at 0.25 percent to 0.5 percent.
Benchmark 10-year yields declined eight basis points, or 0.08 percentage point, according to Bloomberg Bond Trader data. Futures traders also dialed back expectations for the pace of rate increases after the Fed's March meeting, when officials cut their median forecast for 2016 hikes to two from four.
Puerto Rico plans to invoke a new law permitting the suspension of debt payments if the island fails to reach an agreement to defer $422 million in bond payments due May 1, a spokesman for the governor said.
Commodities
Oil rose after a government report showed that U.S. crude production slipped to an 18-month low. West Texas Intermediate crude jumped 2.9 percent to settle at $45.33 a barrel in New York. Output fell to 8.94 million barrels a day last week, the lowest since October 2014, Energy Information Administration data show.
Iron ore retreated for a fourth day after commodity exchanges in China intensified a crackdown on speculative trading in raw materials that's pushed volumes to record levels in the world's biggest user.
Before it's here, it's on the Bloomberg Terminal.
LEARN MORE