Bank of England Won't Hesitate to Act on Housing, Cunliffe Says
Deputy Governor for Financial Stability spoke in London

Highlights risks from buy-to-let, commercial real estate
Bank of England Deputy Governor Jon Cunliffe said the central bank's Financial Policy Committee won't hold back from quashing risks that appear in the housing market.
In a speech in London late Tuesday, the deputy governor for financial stability highlighted three property "hotspots" that warrant attention: buy-to-let, lending at high loan-to-income ratios to owner occupiers and commercial real estate. He also singled out consumer lending as a separate threat.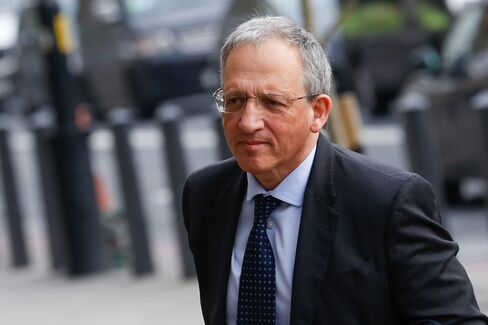 "The committee is monitoring property markets closely," Cunliffe said, according to the text of the speech. "It has already taken action and would not hesitate to do so again if it is needed to protect financial stability."
With the U.K. benchmark interest rate at a record-low 0.5 percent for more than seven years, stability officials are on the front line of the response to housing-market risks. Cunliffe, who sits on both the FPC and the rate-setting Monetary Policy Committee said he "would expect the FPC's attention to risks around property to increase as the credit cycle becomes more established."
Housing Action
Amid fears landlords are pushing up house prices, Chancellor of the Exchequer George Osborne has already lifted the stamp-duty tax paid by investors, cut tax breaks and said he'll grant the BOE so-called powers of direction over the buy-to-let market later this year. Last month the Prudential Regulation Authority -- the U.K.'s main banking supervisor and part of the central bank -- published guidelines to guard against a loosening of underwriting standards on affordability of buy-to-let loans.
"The FPC's expectation is that the government's changes in stamp duty and mortgage interest tax relief for buy-to-let, together with the PRA's actions, will probably dampen the growth of buy-to-let lending," Cunliffe said. Still, "the impact on the housing market as a whole may not be great."
Since market dynamics are difficult to predict, "the FPC decided to wait and see how the market reacted before considering whether to take action on buy-to-let," the deputy governor said.
He said lending to owner-occupiers at high loan-to-income ratios "remains significant" and that the commercial real estate market "seems to have gone into a deep freeze" before Britain's June 23 referendum on its European Union membership.
The current level of household debt "is still relatively high by historical and international standards and is something that, in my view, the FPC needs to keep carefully in mind when thinking of financial stability," Cunliffe said.
Before it's here, it's on the Bloomberg Terminal.
LEARN MORE