Austrian Bank Woe Moves West to Costly Home-Market Branches
Costs outshine biggest profit sources at Austrian lenders

Central bank sees 25,000 jobs, third of total, eventually shed
When Austrian banks start reporting first-quarter results next week, investors will look for plans to cut ballooning costs in a home market that was once eclipsed by high-profile expansion in eastern Europe.
UniCredit Bank Austria AG, Raiffeisen Bank International AG and Erste Group Bank AG face investor concern about overstaffing that was left to fester amid tough Austrian labor laws and more profitable and exciting markets abroad. The problem has become more acute as operating costs in Austria outpace the banks' two most important profit sources -- interest income and fee income, according to central bank data for the past two years.
The threat to profitability has already prompted Bank Austria to start closing a third of its branches. Last week, Erste's savings banks made headlines after saying they're considering bucking the local culture by charging fees to use cash machines.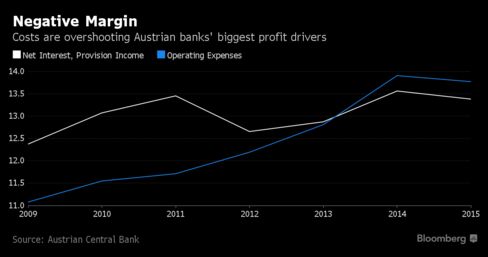 "It's not a new insight that Austria is overbanked," said Standard & Poor's analyst Anna Lozmann. "But since we have this interest-rate level, a slowdown in economic growth and higher regulation costs, this fact has to be seen in a new light."
Profits generated in eastern Europe long allowed Austrian banks to subsidize domestic operations constrained by labor laws and legacy wage agreements, avoiding the staff reductions and branch closures seen in countries like the U.K. or Germany. As the eastern nations forced banks to bear the burden of foreign-currency loans to consumers and their economies slowed, income from the subsidiaries became less reliable.
Andreas Ittner, the vice governor of the Austrian central bank, told ORF radio on Wednesday that banks should consider charging more fees to bolster their finances.
"If products are valuable to customers, they will be ready to pay for them," he said on Wednesday.
Ittner has previously pointed out "considerable potential" for banks to cut costs. In a December report, the central bank showed staffing lingering close to a historical peak, compared to reductions of as much as 30 percent in other European Union countries over the past two decades as customers move online and branches close. Ewald Nowotny, the institution's governor, expects the Austrian industry to follow suit, eventually losing about a third of its 75,000 jobs.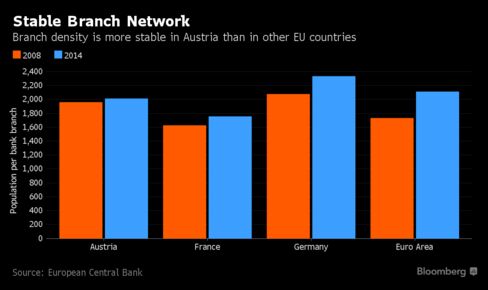 Banks across Europe have lost a tenth of their market value this year as unprecedented stimulus by the European Central Bank depressed interest rates, squeezing income generated from lending and taking deposits. In Austria, local competition has made it even harder.
Erste, whose domestic unit may have set the tone for the quarter when it mentioned the possibility of new fees in a press conference last week, reports first-quarter earnings on May 4. Bank Austria's figures are due on May 11.
Raiffeisen reports on May 12. Even as ATM fees are commonplace elsewhere, Raiffeisen Chief Executive Officer Karl Sevelda recently called free withdrawals a "sacred cow" in Austria that shouldn't be sacrificed.
Before it's here, it's on the Bloomberg Terminal.
LEARN MORE