Suspected Islamists Kill U.S. Mission Employee in Bangladesh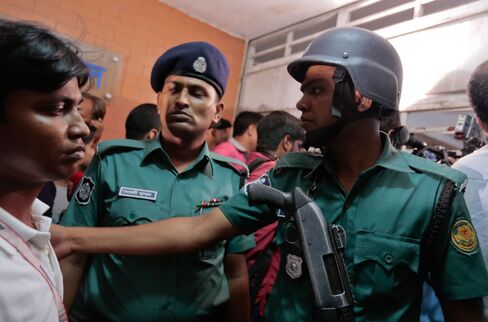 BBC says victim was editor of a Bangladeshi LGBT magazine

U.S. Ambassador calls for the apprehension of criminals
Suspected Islamist extremists hacked to death a U.S. mission employee and his friend in the Bangladeshi capital Dhaka, the police said.
Xulhaz Mannan and his unidentified friend were killed in an apartment on Monday, said police inspector Mohammad Iqbal. Mannan was an employee of the U.S. Agency for International Development and the editor of a gay-rights magazine, the Associated Press reported. He previously worked at the U.S. embassy as a protocol officer, according to AP.
"We abhor this senseless act of violence and urge the government of Bangladesh in the strongest terms to apprehend the criminals behind these murders," U.S. Ambassador Marcia Bernicat said in a statement.
The deaths comes two days after a university professor was hacked to death in the northwestern city of Rajshahi. Islamists have been targeting secular bloggers and liberal activists since the slaying of U.S. blogger Avijit Roy in Dhaka in February 2015.
In Washington, State Department spokesman John Kirby described Mannan as "a beloved member of our embassy family and a courageous advocate" for human rights. He also invoked Bangladesh's history "as a moderate, tolerant, inclusive society."
Champa Patel, the South Asia director for Amnesty International, said in an e-mailed statement that the recent killings underscore "the appalling lack of protection being afford to a range of peaceful activists in the country." The group said homosexuality is treated as a crime in Bangladesh.
Before it's here, it's on the Bloomberg Terminal.
LEARN MORE