Lower Oil Prices Force OPEC Members to Adjust Budgets: Chart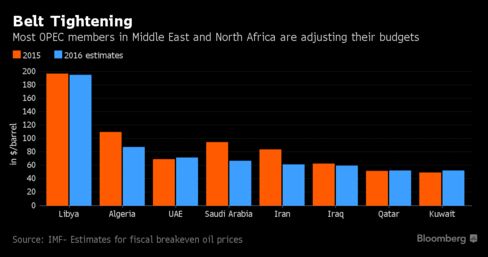 Five out of eight OPEC nations in the Middle East and North Africa will see their fiscal break-even oil prices fall this year from last, with Saudi Arabia seeing a drop of almost 30 percent, according to the International Monetary Fund. Libya is the only country that still requires a price above $100 a barrel as political divisions and the chaos unleashed by Islamic State militants hobble the industry in the nation with Africa's largest oil reserves. Kuwait requires the lowest price of $52.10 a barrel to balance its budget as Brent futures traded at $44.61 as of 11:28 a.m. in London.
Before it's here, it's on the Bloomberg Terminal.
LEARN MORE