Learning to Do Fun, Finns Seek to Overcome Soviet Export Legacy
Trade minister wants Finland to improve consumer goods sales

More products join gaming industry in reversing inward vision
Suunto's sports watches have scaled the highest peaks and dived the biggest depths, helping boost the value of parent company Amer Sports Oyj along the way.
The growing global reach of these award-winning timepieces is a bright spot in a Finnish economy that's still struggling to overcome the demise of Nokia Oyj's mobile phone business.
Yet they remain outliers in a country whose continuing reliance on investment goods, many of which were originally conceived for the Soviet Union, means it has a negative trade balance and one of the lowest growth rates in Europe. Finance Minister Alexander Stubb refers to his country as the "new sick man of Europe."
"Finland depends on exports," Foreign Trade Minister Lenita Toivakka said in an interview this month. But "we have been hopelessly bad in consumer goods, compared to, for example, Sweden.''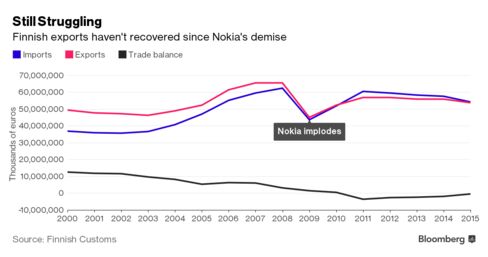 Nokia's story is instructive. Its status as the biggest global mobile phone company at the turn of the century, when the company accounted for almost a fourth of all Finnish exports and one third of GDP growth, helped disguise weaknesses that are now exposed.
"The Finns have always been better at functionality than fun," said Risto E.J. Penttila, head of the Finnish Chamber of Commerce. "As long as technology was 'the thing,' functionality sold well." But when beautiful design became as important as technology, Nokia started struggling, he says.
Nokia's demise typifies the woes of a country whose industrial production is deeply rooted in the postwar boom years, when products were easy to sell, as long as they worked.
Time to Adapt

Why has Finland been so slow to adapt?
One obvious explanation is geopolitics. Much of Finland's export industry has traditionally catered for demand for neighboring Russia and its former satellites.
Although the Soviet Union is long gone, forestry products like pulp, wood or paper and investment goods like power generation parts and construction machinery still dominate Finland's export landscape.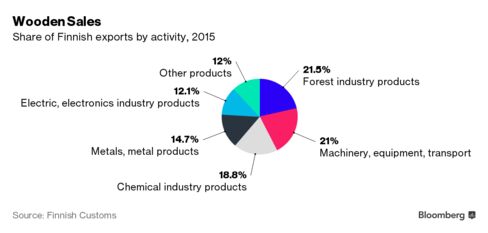 Finland has started to address the issue. In 2012 it launched Team Finland, a government-sponsored network designed to help small- and medium-sized enterprises sell their products abroad.
Beyond those efforts, there are telltale signs of improvements elsewhere.
Kirsti-Lindberg-Repo, a Finnish brand expert, notes that traditional companies like glassware designer Iittala and fashion-maker Marimekko are growing in Asia, while Nordea consumer goods analyst Rauli Juva points out that Nokian Renkaat's winter tires are now all the rage in the key market of central Europe. Their renewed international appeal comes as Rovio Entertainment Oy's Angry Birds and Supercell Oy's Clash of Clans have already put the Nordic country firmly on the global gaming map.
According to Penttila, however, the government of Prime Minister Juha Sipila should focus on reducing business taxes and making the labor market more flexible, rather than "waste time in brand groups and initiatives like Team Finland."
For the time being, Finnish trade continues to rely heavily on wholesale products generated by its lush forests and on fluctuating demand from neighboring Russia.
But with experts from the European Union, the International Monetary Fund and the Finnish central bank all pointing to private consumption as an engine for growth, Finnish policy makers have their work cut out.
"Finland should increase its share of consumer goods, but this will not happen rapidly,'' Toivakka said.
Before it's here, it's on the Bloomberg Terminal.
LEARN MORE