Clinton to Win Big in East Where Most Delegates at Stake: Chart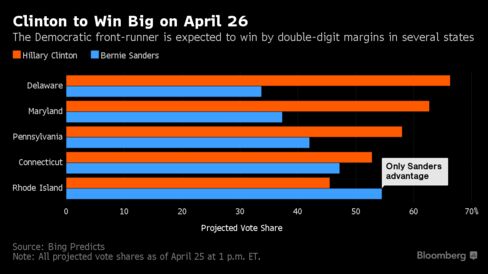 Democratic front-runner Hillary Clinton is heavily favored in four of five primary states voting on April 26, according to Bing predicts, whose "machine-learned predictive model" parses data from polls, prediction markets, search engine queries and social-media posts. In the two biggest delegate prizes, Pennsylvania and Maryland, Clinton is expected to win by between 16 and 25 points, with Rhode Island the only bright spot for Vermont Senator Bernie Sanders.
Before it's here, it's on the Bloomberg Terminal.
LEARN MORE