China's Provincial Growth Rates Are Splintering
25 of 29 regional economies reported output slowdowns

Fragmentation in economic growth complicates policy outlook
While the headline numbers from China have pointed to an overall stabilization in the economy this year, and possibly even a pick up in the past couple of months, fresh provincial data shows a splintering growth path that complicates the policy outlook.
Of the 29 of 31 provinces and municipalities to have published gross domestic product reports for the first quarter, 25 reported a slowdown from 2015's full-year pace and 14 are undershooting their expansion targets. And the worst news may not even be out yet: Two rust belt provinces in the northeast -- Liaoning and Heilongjiang -- haven't released their figures yet.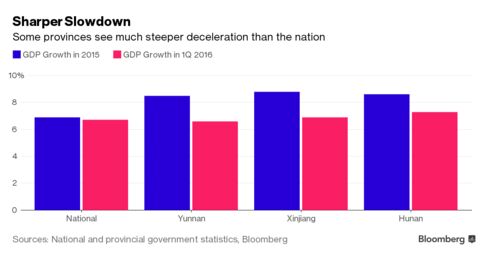 "Hope and challenges coexist" is how Premier Li Keqiang phrased it when speaking of the fracturing in growth at the nation's annual legislative gathering in March. The provincial readings underscore the challenge for policy makers facing multiple and often conflicting goals, such as the need to cut capacity in the steel and coal industries without spurring pockets of mass unemployment, or boosting housing markets in smaller cities while applying the brakes on surging prices in mega cities like Beijing, Shanghai and Shenzhen.
The provincial slowdowns may also spur fresh question marks over China's 6.7 percent expansion pace from a year earlier in the first three months of 2016, after quarter-to-quarter data suggested a slower pace.
Here's a look under the hood of the world's second-largest economy.
Real Estate Divide
A turnaround in the property sector led the first-quarter stabilization as investment accelerated 6.2 percent from a year earlier on stronger sales and surging prices in the nation's bigger cities. Yet housing remains a tale of two types of Chinese cities: the winners and losers.
Property investment surged 15.5 percent from a year earlier in the provincial-level port city of Tianjin, jumped in Qinghai, a northwest region hit by poverty, and leaped ahead in Guangxi, a southern province bordering Vietnam. Shanghai's local government said the property sector was "abnormally active."
The picture was different in Guizhou, a mountainous area in the southwest, where property investment dropped 7.6 percent from a year earlier. In Chongqing, the former national growth champion that has switched focus to cutting excess capacity, it fell 2 percent.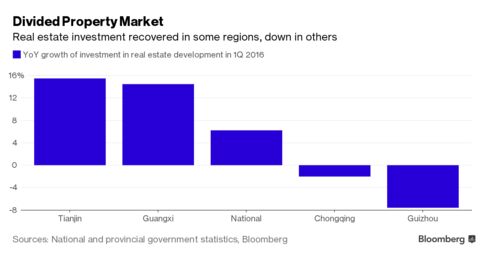 The policy response? Watch for differentiated housing credit measures tailored to regional needs.
Infrastructure Surge
Infrastructure investment -- another component of fixed-asset investment -- picked up the slack from the tepid property sector in both Guizhou and Chongqing, increasing 23 percent and 30 percent respectively. Nationwide it climbed 19.6 percent as China's communist leaders fall back on their old playbook of building roads, railways, and expanding metro systems to keep regional economies humming.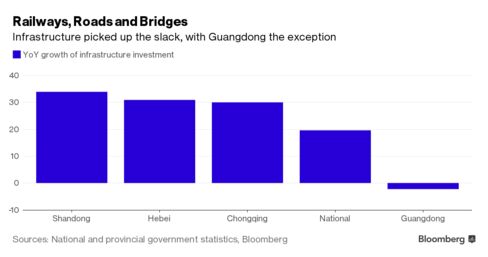 Services Share
While almost all provinces reported services sectors were making up an increasing share of their economies, that wasn't enough to halt their slowdowns in most cases given the lingering importance of traditional economic drivers such as manufacturing and exports.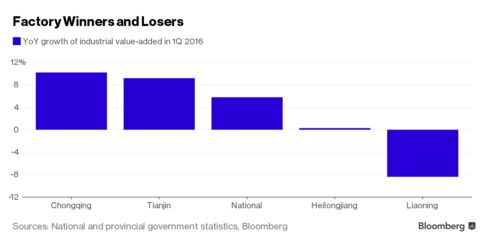 Yunnan, Hunan and Ningxia all saw sharp decelerations in their industrial output. Guangdong, the nation's largest regional economy and export hub, partly attributed its deceleration to weakness in exports. Industry-specific factors were important: northwest Jilin bordering Korea saw a comeback due to better automobile production, while southwest Yunnan near Thailand reported a sharp drop in the tobacco sector.
Post-Industrial Zones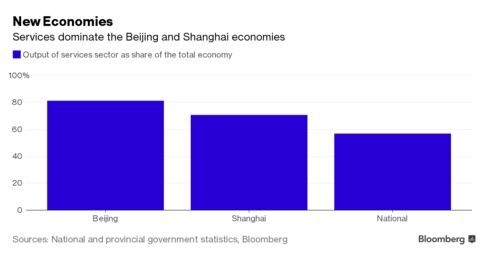 In the post-industrial economies, growth was more stable. The capital Beijing saw over 90 percent of its growth stem from services, while financial center Shanghai said the tertiary sector accounts for over 70 percent of its economy.
The Winners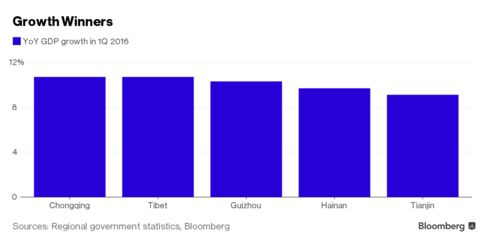 The Southern island of Hainan -- China's answer to Hawaii -- reported a pick-up in growth as the region of beach resorts reported a boost from "big projects" and an improving property sector. Poverty-stricken Ningxia also reported an acceleration as catch-up growth there continued.
Regions still expanding at a double digit pace -- Chongqing, Tibet and Guizhou -- are all in less-developed western China. Growth of the coal capital Shanxi decelerated to 3 percent, which is half of the pace the province targets this year.
Policy Outlook

With such a varied national picture, policymakers have flagged a nuanced response. The People's Bank of China last week met, outlining a mixed bag of policies that will seek to help industries cut output capacity, inventory and leverage, implement housing policies specific to regional needs, and further reforms such as opening up the bond market. Meantime tax reform and wider government deficits are coming on the fiscal side.
— With assistance by Xiaoqing Pi
Before it's here, it's on the Bloomberg Terminal.
LEARN MORE