Egyptian Police Mass to Counter Anger Over Red Sea Islands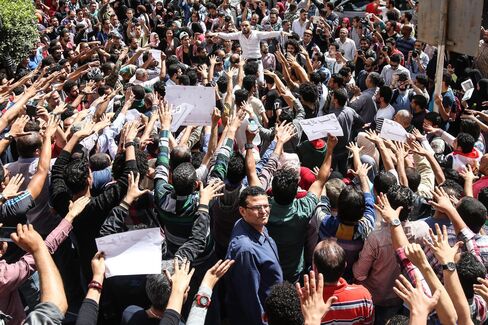 Decision has cost El-Sisi `nationalist card,' analysts say

Island dispute belies broader unrest over economic situation
Thousands of security personnel deployed around Cairo as Egypt braced for new protests over the return of two Red Sea islands to Saudi Arabia, a decision that has provoked some of the most open criticism of President Abdel-Fattah El-Sisi's leadership.
Forces had already rounded up dozens of activists and journalists from Cairo cafes and their homes ahead of the demonstrations, claiming they were plotting to stoke unrest.
"We have paid a high price to get where we are now, and we will not let anyone harm Egypt's security, stability and institutions," El-Sisi said in a speech Sunday. Interior Minister Magdi Abdel-Ghaffar warned that the nation's security was a "red line" and any attempts to undermine stability would be handled with "utmost firmness and decisiveness," state-run Middle East News Agency reported.
The unrest over the islands and subsequent government crackdown are making it harder for El-Sisi to project an air of stability to lure sorely needed investments and contain a foreign currency crisis that's hammered business activity and threatens to further raise prices.
Investors Wary
The stock market was closed on Monday, the 34th anniversary of the withdrawal of the last Israeli troops from Egypt's Sinai peninsula. On Sunday, shares fell for a third day despite a promised $2 billion deposit from the United Arab Emirates, with some investors keeping an eye on Monday's protest. The EGX30 index has gained 11 percent since the beginning of 2016, making it the 12th-best performing of 93 equity gauges tracked by Bloomberg.
The decision to return the islands drew thousands to the streets last week and launched an "Egypt not for sale" movement that united dozens of political parties, youth groups and others in calling for protests Monday. The handover of the islands has fanned economic and other grievances that have been simmering for the past year, analysts said.
El-Sisi was "the embodiment of strong nationalism and even to some of his supporters he looks weak, a supplicant to Saudi Arabia," said Hani Sabra, head of the Mideast practice at the New York-based Eurasia Group.
His standing "will continue to erode unless he can deliver on the economic front," Sabra added. "He has lost the nationalist card, and success on the economic front is much harder to achieve." Egypt has said it is returning what rightfully belongs to Saudi Arabia under a demarcation of the maritime boundaries between the two countries.
Joining Celebrations
The army said Sunday it will deploy forces to "join the people in celebrating" the liberation of Sinai, and secure vital installations against those trying to "spoil people's joy" on that day. At least 16 fighter jets buzzed Cairo on Monday, flying in formations of four.
April 15 protests over the islands, whose return was announced at the end of Saudi King Salman's recent visit to Cairo, were among the largest against El-Sisi since his election two years ago. Calls for him to "leave" echoed the same chants used against Islamist President Mohamed Mursi and his predecessor, longtime leader Hosni Mubarak, before they were toppled.
"The problem for the regime is not the size of the protests, but their mere occurrence," said Yasser El-Shimy, a research fellow at Boston University.
The former defense chief was elected as the man who could rescue Egypt from chaos following Mubarak's 2011 ouster. He used that goal to justify the deadly crackdown on Islamists after Mursi was pushed from power in a military-backed popular uprising in 2013. Economic woes, a hard currency crisis and international complaints of repression are calling that image into question.
Struggling Economy
Foreign reserves, while constant for the past few months at about $16.6 billion, are still more than 50 percent below their December 2010 level. Tourism revenue, which had revived slightly last year, plunged again after a suspected bombing brought down a Russian passenger plane over Sinai.
Allegations of police brutality and intolerance for dissent are also dogging El-Sisi's regime. The death of an Italian graduate student earlier this year, which Italian media has suggested was the work of Egyptian security forces, is testing ties between the nations. In just the past two months, policemen have been accused twice of killing civilians over disputes. The crackdown on Islamists, which has killed hundreds and jailed thousands of others, has widened to include other critics of the government.
While the April 15 protests were about the islands, "with all the arrests it's different" now, said Nermeen Sakr, a 28-year-old programmer who plans to participate in Monday's rallies. "It's as if the government doesn't want us to even have an opinion."
Before it's here, it's on the Bloomberg Terminal.
LEARN MORE