Brazil's Rousseff Vows to Fight Impeachment Until the End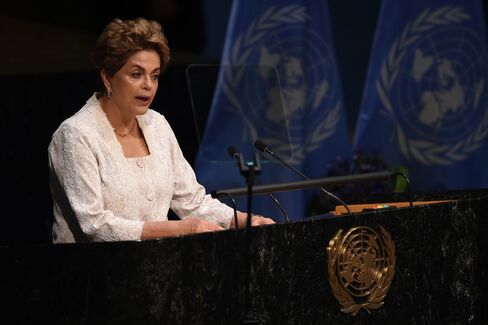 `There is nothing more inconvenient than an innocent person'

Her vice president is said to be assembling a new government
Brazilian President Dilma Rousseff called her vice president and his allies "traitors" who will be judged harshly by history, vowing to continue to resist an impeachment process she considers tantamount to a coup attempt.
"I am willing to fight to ensure that Brazil is not a country where democracy is broken," she said. "There's nothing more inconvenient than an innocent person."
Rousseff's remarks came Friday during an interview with editors from several media outlets in New York, during which she dodged questions about whether she should shoulder any blame for the crisis that has rocked Latin America's largest country. She gave no indication that she would consider stepping down, even as Vice President Michel Temer begins assembling his own government to replace hers.
In a speech earlier before the United Nations, she avoided using the word impeachment, let alone coup. With the editors she took a more aggressive tone.
"These people will bear on their foreheads the stamp of coup leaders," she said. "History will give the coup leaders the treatment they deserve."
Acrimonious Struggle
Last Sunday, the latest chapter in an acrimonious power struggle came to a head when Brazil's lower house of Congress voted to put Rousseff on trial in the Senate for allegedly breaking financial responsibility laws, leaving her presidency hanging by a thread. The opposition currently has enough support in the Senate to temporarily remove her from office in a vote expected by mid-May, according to polls conducted by the country's major newspapers.
Quick Guide: What's Next in Brazil's Impeachment Process
Sidebar: Impeachment Euphoria May Fade Quickly as It Came
Sidebar: Brawls, Sermons and Confetti: Brazil Impeachments Have It All
Quick Guide: In Brazil, Hopes Give Way to Slump, Scandal, Turmoil
Temer in recent days has been more vocal in countering Rousseff's claims that he is behind an alleged coup to oust her, saying the impeachment process is in accordance with Brazilian law and guidelines laid out by the Supreme Court. He has been meeting with advisers and economists to shape a cabinet and initial policy measures.
The political conflict has paralyzed Brazil, exacerbating a recession that is set to become the worst in over a century. The economy in March shed jobs for a 12th consecutive month, the longest period of decline on record, highlighting the tall order facing whoever will govern the country. The nominal budget deficit as a percentage of GDP reached 10.9 percent in January, its highest on record, and gross debt as a percentage of GDP climbed to 68 percent in February.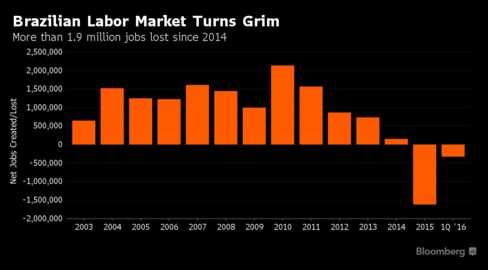 "We currently lack the political stability required for fiscal stability," Rousseff, 68, said in the interview with the editors that lasted over an hour. She said reforms will be "impossible" for a future government that doesn't have legitimacy.
Offers Defense
Brazil's first woman president defended the accounting maneuvers and spending decrees questioned in the impeachment request with a long and technical explanation, including a comparison of the nation's budget appropriations to a family shopping list.
For months financial markets have rallied on hopes Temer's proposals to downsize government and cap spending could help put the economy back on track. Temer, 75, is a political insider who has led the country's largest party, the PMDB, and would at least begin with an ample majority in Congress, legislators and analysts say.
Investor optimism has sparked a 27 percent rally in Brazil's local-currency bonds this year and a 22 percent jump in the Ibovespa stock index. The gains make Brazil one of the best performing major markets this year.
"We could get growth in 2017 rather than in 2019-2020, which would have been the case if we had to wait until the next election," William Landers, a money manager and managing director for Blackrock Inc., said in an interview on Bloomberg TV.
Cunha Allegations
Many Brazilians aren't necessarily looking forward to a Temer administration. A Datafolha poll published this month showed 61 percent of respondents support Rousseff's removal from office, while Temer fared only slightly better with 58 percent calling for his ouster.
Moreover, several leaders in Temer's PMDB party are being investigated in relation to the corruption scandal that has dogged Rousseff's Workers' Party.
Two new complaints are likely to be revealed soon against Eduardo Cunha from a total of six inquiries into the speaker of Brazil's lower house, prosecutor-general Rodrigo Janot said Friday following a lecture at the Massachusetts Institute of Technology, according to Brazil's G1 news website.
Cunha, 57, has already been accused of money laundering in the two-year Carwash investigation, which targeted corruption at state-run oil company Petrobras. He allegedly collected more than 5 million reais ($1.4 million) in kickbacks paid into illegal Swiss accounts, according to an accusation sent to the Supreme Court in March.
In a statement on Saturday to G1, Cunha said Janot had chosen to move "rapidly" against him, adding, "It would be good to adopt the same speed against all investigated, which does not seem to occur."
No Charges Laid
Cunha led the April 17 action that kicked off the impeachment process against Rousseff. The request approved by the lower house contends that Rousseff bypassed Congress to sign spending decrees and delayed payments to state banks to mask a growing budget deficit. Rousseff 's defenders say the practice was used by other governments on a smaller scale, and doesn't warrant impeachment.
Rousseff reiterated that there are no corruption charges against her, and the most "uncomfortable" part of this process is that she's innocent.
If the Senate votes to initiate the impeachment trial with a simple majority, Rousseff would have to step down for as many as 180 days, during which time Temer would take office. It then requires a two-thirds majority to permanently remove Rousseff from office.
Before it's here, it's on the Bloomberg Terminal.
LEARN MORE