Morgan Stanley Says Never Mind S&P 500's Earnings Gap: Chart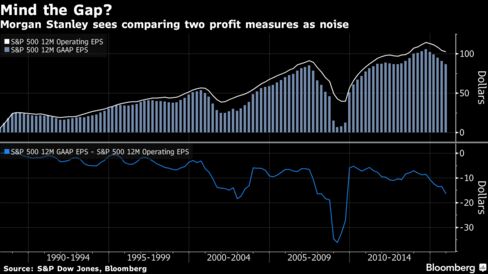 The gap between two profit measures for the Standard & Poor's 500 Index has grown to the widest level since 2009, fueling concern that earnings quality is deteriorating. To Morgan Stanley, such worries are unfounded. The difference between operating profit to income under generally accepted accounting principles, or GAAP, is mostly driven by a small number of companies -- five firms account for a third of the discrepancy, according to a study by strategist Adam Parker. Moreover, the measure has a bad record for identifying winners -- buying stocks with the lowest earnings spread and selling those with the widest has produced a loss of 26 percent since 1985.
Before it's here, it's on the Bloomberg Terminal.
LEARN MORE