EU Carbon Has Biggest Weekly Gain in a Year as Natural Gas Jumps
Allowances gain as crude, natural gas and power prices rise

Nations sign Paris climate-protection treaty in New York
European Union carbon allowances had their biggest weekly gain in more than a year as natural gas for next summer increased by a record and traders were seen closing bets that prices would move lower.
Benchmark permits jumped 8.8 percent this week, the most since March last year, as U.K. natural gas for the six month from April 2017 surged 12 percent, according to data from the ICE Futures Europe exchange in London. Higher gas prices can encourage power utilities to switch to coal, which requires about double the emission permits.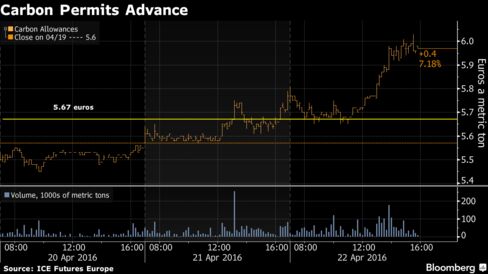 There were buy orders for carbon on ICE at 5.67 euros ($6.38) a metric ton, the high on April 12, that earlier this week appeared to show some traders planned to close losing bets that prices would fall further, said Bernadett Papp, an analyst at Vertis Environmental Finance Ltd. in Budapest. Allowances have dropped 28 percent this year.
Commodity Index
Emission contracts rose with oil, gas and power contracts amid a rally on commodity markets. The Bloomberg Commodity Index rose 4.4 percent this week, the most since October. Carbon's gain also coincided with more than 160 nations meeting in New York to sign the Paris climate treaty struck in December to limit global warming.
"It was a mixture" of energy-market gains, moves to stop losses and the political signal that governments are serious about limiting emissions, Papp said. Still, the climate deal for after 2020 probably won't provide a fundamental reason to push EU carbon allowances higher, she said.
December carbon allowances rose 3.7 percent Friday to 5.97 euros a metric ton by 3:42 p.m. on ICE, extending the weekly gain. They earlier reached 6.01 euros, the highest since Feb. 1.
Carbon also advanced after Germany sold spot allowances for 5.74 euros on the European Energy Exchange. That was about 7 euro cents above the market price on ICE.
December 2016 California carbon rose 2.1 percent this week through Thursday to $12.57 a ton on ICE
Shenzhen 2015 carbon allowances jumped 21 percent this week through Thursday to 48.4 yuan ($7.45) a ton on China Emissions Exchange
United Nations Certified Emission Reductions fell 2.4 percent this week to 40 euro cents a ton on ICE
Before it's here, it's on the Bloomberg Terminal.
LEARN MORE