Cheaper Ingredients Is Secret Sauce in McDonald's Rebound: Chart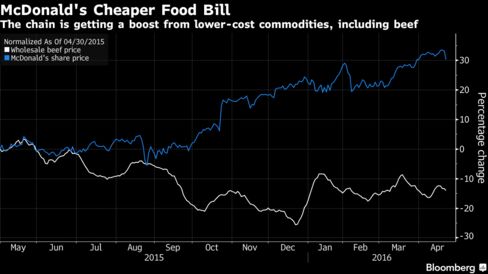 McDonald's Corp. Chief Executive Officer Steve Easterbrook is starting to get credit for turning around the fast-food chain. But he's getting a big assist from lower ingredient costs. McDonald's expects its "grocery bill" to drop by as much as 4.5 percent in the U.S. this year, padding profit margins. Falling beef prices have been a particularly helpful to the burger chain, letting McDonald's get more aggressive with discounts and promotions.
Before it's here, it's on the Bloomberg Terminal.
LEARN MORE