Caterpillar Shrugs Off Moody's Leverage Concern as Markets Rally
CFO says dividend payments and growth plans are safe

Caterpillar notes returned most among peers past two months
Caterpillar Inc. is forging ahead with spending plans even as deteriorating leverage metrics sound alarm bells among rating analysts. Investors are applauding as its commodity-producing customers rally.
The world's biggest maker of machinery for mining and construction can maintain dividend payments and growth plans without eroding its balance sheet, Chief Financial Officer Brad Halverson said in an interview Friday, after the company reported lower-than-estimated profit and cut its 2016 earnings and sales outlook.
"We can fulfill all the priorities we have," he said. "The dividend is very safe in my view in terms of the cash flow that we're generating, and the pension is very well funded. We use excess cash to buy back stock so it's the last priority in terms of the equation."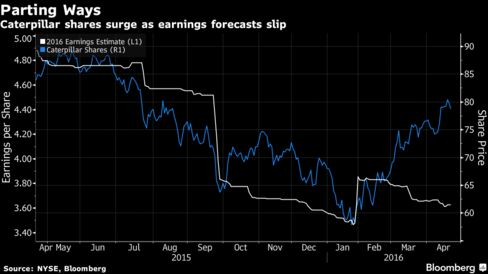 Cash flow is expected to fall 32 percent to $2.3 billion this year, according to the average of seven analysts' estimates, as Caterpillar forecasts sales to drop as low as $40 billion. On Wednesday, Moody's Investors Service changed its outlook for the company to negative from stable as it contends with the longest and most severe cyclical downturn in its history.
"Moody's outlook had more to do with their negative view of commodities and oil and gas," Halverson said. Caterpillar's leverage metrics "are better numbers than we've ever had at this point in the cycle."
But its profitability metrics align with B-rated peers, nine levels riskier than the A rating Caterpillar must maintain to keep access to the low-cost borrowing that allows its financing unit to function, according to data compiled by Bloomberg Intelligence.
"The cyclical undertow is dragging profitability down," Joel Levington, an analyst at Bloomberg Intelligence , said in an interview from New York. "The credit becomes riskier because there's less flexibility."
Investors are taking that in their stride as raw materials rally amid signs of stabilizing Chinese demand.
Caterpillar's notes due 2024 have returned 4.1 percent in the past two months, the second biggest gain among comparable bonds tracked by Bloomberg. The company's stock is the best performer in the Dow Jones Industrial Average with a 15 percent gain.
Before it's here, it's on the Bloomberg Terminal.
LEARN MORE