Biggest Retail Gain in Decade Aids Canada Oil-Shock Rebound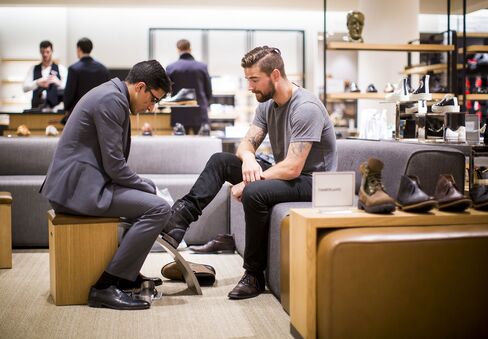 Consumers prove `one of the most stable pillars of support'

Inflation also comes in stronger than economists expected
Canada's consumer is showing no signs of letting up.
Retailers are off to the best start of the year since 2005, and consumer price pressures are stronger than anticipated, data released today show. That adds to evidence that households are leading a rebound in growth that's on track to be among the fastest in the Group of Seven this year.
"The Canadian economy is a little more resilient than what we would have expected a few months ago," said Andrew Kelvin, senior fixed-income strategist at Toronto Dominion Bank. Consumers are "one of the most stable pillars of support."
Household spending remains a strong piece of Canada's recovery from a commodities crash, with low interest rates supporting purchases of homes and cars that is easing the pain felt in Alberta's oil patch.
Retail sales increased 0.4 percent to C$44.2 billion ($34.8 billion) in February, Statistics Canada said Friday in Ottawa, following a 2 percent gain in January. None of the 18 economists in a Bloomberg News survey predicted any increase, and the median estimate was a 0.8 percent decline. That's even with falling gasoline prices reducing revenue for gas retailers.
The volume of retail sales -- which factors out price changes -- rose 1.5 percent. Total retail sales increased 2.5 percent in January and February, the strongest two-month gain to start the year since 2005.
'More Confidence'
Friday's retail data supports the view that Canada's economy grew at a robust pace in the first quarter. It "gives us a bit more confidence that Q1 GDP growth will come in 3 percent or better," Doug Porter, chief economist at Bank of Montreal, said in a note to investors.
Canada's dollar strengthened 0.6 percent to C$1.2661 per U.S. dollar at 10:45 a.m. in Toronto. Five-year federal government bond yields rose for a fifth day Friday, to 0.87 percent from 0.82 percent, the highest since December.
In a separate release Friday, Statistics Canada data showed inflation excluding gasoline was stronger than expected.
The core inflation rate that excludes eight volatile products unexpectedly increased to 2.1 percent, compared with 1.9 percent in the prior month. Total inflation slowed in March to 1.3 percent, but that was led by a 13.6 percent drop in gasoline prices. Economists surveyed by Bloomberg News predicted overall inflation of 1.2 percent, and a core rate of 1.7 percent.
The data come as a bit of a surprise at a time when the tone at the Bank of Canada has been cautious. Governor Stephen Poloz told lawmakers this week that recent figures have been uneven and a burst of growth in the first quarter will fade in the following months, citing the impact of weaker-than-expected global recovery, falling investment in the oil sands and a stronger Canadian dollar.
"All told, today's data soared above even optimistic hopes," Avery Shenfeld, chief economist at CIBC Capital Markets, said in a note to investors.
Before it's here, it's on the Bloomberg Terminal.
LEARN MORE