Pernod Ricard Suffers China Setback as Scotch Demand Ebbs
Sales in Asia unexpectedly dropped 5% on weak New Year orders

Shares slide 7.1% on concern over outlook for Asian demand
Pernod Ricard SA's sales in China unexpectedly slid in the third quarter as the maker of Chivas Regal whisky was hurt by falling demand for scotch in Asia.
Scotch sales in China fell at least 10 percent in the first nine months of the year, the Paris-based company said Thursday, sending its shares down as much as 7.1 percent. Third-quarter sales declined 5 percent in the division that includes Asia, missing estimates for 1 percent growth, a sharp and surprising falloff from the first-half's gain.
Eddy Hargreaves, an analyst at Canaccord Genuity, said it's "premature" to expect Pernod's China business to rebound anytime soon, adding that the company's explanation for its performance in the country "remains complex and confusing, with an unwillingness to commit many key numbers, or even estimated numbers, to print."
Distillers are giving conflicting views on the Chinese market, where sales of high-end spirits had been hamstrung by a government clampdown on graft. Hennessy-cognac owner LVMH signaled a gradual recovery in the market earlier this month after two years of falling demand. Pernod continues to forecast shrinking demand for spirits there.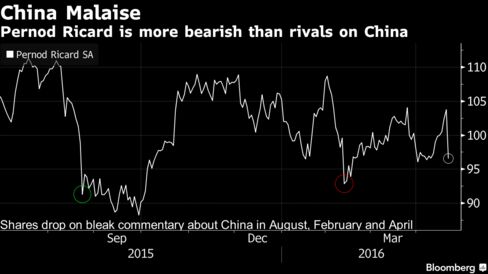 "Chinese New Year was soft and consumption is still weak," Chief Financial Officer Gilles Bogaert said in an interview. The distiller has seen no improvement nor worsening of its cognac sales, which it said were more resilient than its scotch business. Beyond China, Pernod has also suffered from weakness across Southeast Asian markets, it said.
Pernod is seeking to sell whiskies such as The Glenlivet single malt and Ballantine's Finest blended scotch to a wider audience in China, Bogaert said on a call with investors.
Pernod shares were down 7 percent at 96.48 euros as of 12:43 p.m. in Paris, the steepest decline since the distiller warned investors of headwinds in China when it announced its last quarterly results in February.
The company said it's too early to begin increasing cognac prices in China, contrasting with French competitor Remy Cointreau, which has said it will seek to raise prices in the coming weeks. "What is happening is that our competitors had a far worse year than us last year, therefore they have a far lower comparator," Bogaert said.
"It appears that Martell lost share over Chinese New Year," Trevor Stirling, an analyst at Sanford C Bernstein, said by phone.
Overall organic revenue rose 1 percent in the three months through March, with sales gaining in the U.S. as retailers restocked. Analysts expected 1.2 percent growth. Pernod rounds growth off to the nearest digit.
Sales in North America rose 11 percent, beating the 1.8 percent median analyst estimate, while 2 percent growth in Europe was in line.
At a reported level, revenue fell 3 percent to 1.86 billion euros ($2.1 billion) as currency swings erased growth.
Before it's here, it's on the Bloomberg Terminal.
LEARN MORE