Mind the Gap Between Economists and Traders on U.K. Rates: Chart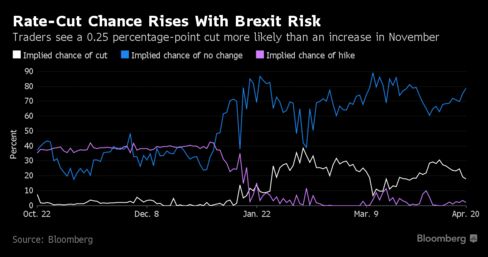 Not a single economist of the 37 surveyed by Bloomberg News thinks the U.K. policy rate will be lower than 0.5 percent by the end of this year, according to data released this week. Options traders, on the other hand, are pricing in a 21 percent chance that rates will be cut at this November's Monetary Policy Committee meeting, with a 1.9 percent chance of an increase and a 74 percent chance that they will remain the same. The chance of a cut has risen this year as the chance of a hike has fallen. The risk of a Brexit, when rates could be cut to cope with the economic fall-out, is likely to be part of the reason, along with other concerns about global growth and low inflation, says Bloomberg Intelligence Economist Dan Hanson.
Before it's here, it's on the Bloomberg Terminal.
LEARN MORE