Euro-Area Unemployment Lets Draghi Say Glass Is Half Full: Chart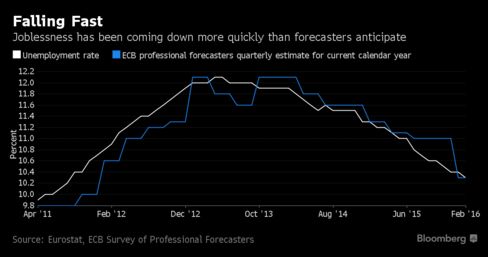 Economic indicators including euro-area unemployment might allow European Central Bank President Mario Draghi to argue at his press conference Thursday that his unprecedented stimulus is working. The jobless rate slid to the lowest level in more than four years in February -- still more than double the U.S. rate., and masking far higher levels in peripheral member states such as Spain, but declining faster than economists had predicted. In fact, it's close to erasing its climb since the outbreak of the debt crisis that almost ripped the single currency area apart.
Before it's here, it's on the Bloomberg Terminal.
LEARN MORE