Ericsson CEO Adds to Cost Cuts as Stock Drops on Sales Shortfall
Push beyond phone-network gear has failed to revive growth

Competition from Nokia, Huawei putting pressure on margins
Ericsson AB Chief Executive Officer Hans Vestberg vowed to accelerate cost cuts and reorganize the Swedish network maker after a drop in demand from markets like Brazil and Russia weighed on earnings and prompted the biggest stock drop in four years.
The company is creating business units targeting media and enterprise customers, part of Vestberg's aggressive push to expand beyond the shrinking wireless-network market. Five executives are leaving the company's leadership team and new ones are entering as part of the effort. First-quarter sales and profitability missed analysts' estimates, echoing a similarly disappointing earnings report a year ago and sending the stock down as much as 13 percent.
Sales fell 2.4 percent last quarter, showing the company's efforts to find new revenue sources have yet to boost growth. Vestberg, at the helm since the start of 2010, is trying to sell more TV and cloud software to broadcasters and corporations to cope with intensifying competition from Huawei Technologies Co. and Nokia Oyj in the contracting network-equipment market.
The shortfall "makes us worry about Ericsson's ability to ever be run tightly and improve profitability sustainably," analysts at Bernstein said in a note to clients.
The shares fell as low as 68.30 kronor and declined 11 percent to 70.05 kronor at 1:10 p.m. in Stockholm. The stock has slumped 37 percent over the past year, giving the company a market value of 231 billion kronor ($28.5 billion).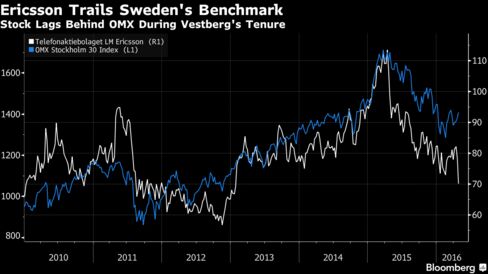 "We are accelerating our transformation," Vestberg said in an interview on Bloomberg TV. "We are taking everything we can control in this environment in order to continue to improve our profitability and come back to growth."
Sales last quarter declined to 52.2 billion kronor, with revenue dropping in Europe, Latin America, central Asia and India. Analysts predicted 54.4 billion kronor, the average of estimates compiled by Bloomberg. The gross margin, the share of sales left after subtracting the cost of production, was 33.9 percent excluding restructuring expenses, compared with the 36 percent average estimate, weighed on by lower software revenue.
Ericsson plans to focus on improving its profitability and increasing more lucrative software sales in 2016, and started to take steps to reduce costs beyond its plan to save 9 billion kronor annually. Job cuts are also planned, Vestberg told Bloomberg TV, without disclosing numbers.
Restructuring charges this year are expected to jump to 4 billion kronor to 5 billion kronor, compared with earlier estimate of 3 billion kronor to 4 billion kronor.
With much of the so-called fourth-generation networks already built in key markets such as the U.S. and China, phone carriers' investments are set to slump by 7 percent this year and a further 5 percent in 2017, according to Deutsche Bank AG.
Carriers are curbing investments after spending billions of dollars in recent years building faster 4G networks so smartphone and tablet users can stream music and video. With device screens getting bigger and sharper, mobile data is expected to soar 10-fold over the next six years as users turn to services such as Netflix.
Before it's here, it's on the Bloomberg Terminal.
LEARN MORE