Why Oil Bulls Should Love London Over New York: Chart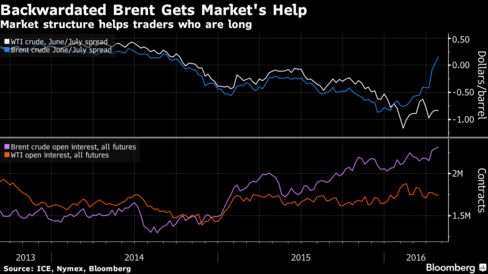 Investors betting oil will extend its surge may want to consider a key detail differentiating the world's two biggest crude futures contracts: only one can reward them just for holding a bullish trade. A combination of North Sea oilfield maintenance and disruptions in Nigeria and northern Iraq have caused Brent, a global benchmark, to trade in what's called backwardation between June and July. What that means is that, when the earlier month expires, investors can extend their trade -- or roll it -- into the following period and make a little money. West Texas Intermediate, the key U.S. grade, punishes rollers because it's trading in the opposite pattern, called contango.
Before it's here, it's on the Bloomberg Terminal.
LEARN MORE