Assad Seeking to Seize Control of Aleppo, Syrian Opposition Says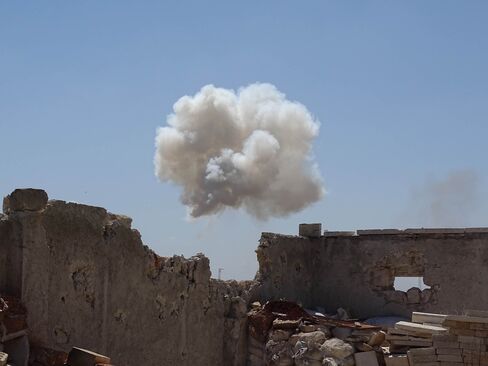 HNC leader says 600,000 people under siege in strategic city

Russia says offensive targets terrorists and rebel allies
Syrian President Bashar al-Assad's forces and their Russian and Iranian allies are seeking to seize control of the city of Aleppo, an opposition leader said, warning that the credibility of the international community and the ongoing peace talks in Geneva will be lost if that happens.
An offensive on Aleppo and other attacks by government-led forces have wrecked a two-month-old cease-fire, said Asaad al-Zoabi, a former Syrian general who leads the main opposition High Negotiations Committee's delegation at the peace talks. He said some 600,000 people are trapped in the besieged city, once the most populous city in Syria and its commercial capital.
"They're trying to destroy what's left of Aleppo and take full control of the city," al-Zoabi said in a Thursday interview in Geneva. "The aim is to sabotage the talks and a political settlement and rely on a military solution. They're trying to send a message that they have the upper hand on the ground."
The HNC quit the peace talks on Monday after fighting flared up in areas where the cease-fire had largely held since late February. U.S. President Barack Obama said earlier Thursday that his Russian counterpart Vladimir Putin must intervene to stop the truce from disintegrating completely.
'Provocations'
The five-year conflict, which has killed more than a quarter million people and forced millions of others to flee their homes, has sparked Europe's biggest migrant crisis since World War II and enabled Islamic State to gain control of territory from which it plotted deadly terrorist attacks in Paris and Brussels.
Russia's ambassador to the United Nations in Geneva, Alexei Borodavkin, said in an interview on Wednesday that the Syrian offensive around Aleppo was in response to "provocations" by the al-Qaeda linked Nusra Front. Rebel groups Ahrar as-Sham and Army of Islam must sever ties to Nusra to avoid being attacked, he said.
While there is tactical cooperation between Nusra and Ahrar as-Sham, government forces have been pressuring it and other groups included in the cease-fire into acts of self-defense, a Western diplomat said earlier this week. The U.S.-Russian brokered truce excluded Islamic State and Nusra.
Al-Zoabi denied any links between the rebel factions and Nusra.
'Mercenary Forces'
"This is a lie -- Army of Islam has been fighting extremists and the same is true of Ahrar as-Sham," he said. "These two armed groups are fighting for the Syrian people against mercenary forces."
The trigger for the escalating violence came earlier this month when rebels struck back against Assad's foreign allies, attacking positions south of Aleppo and catching Iranian forces there by surprise, according to Scott Lucas, professor of international politics at Birmingham University in the U.K.
"This attack was in response to an offensive by the regime -- with Iran and Russia -- toward Aleppo with the goal of capturing it," al-Zoabi said.
If the northern city is captured by government forces, this would mean the "destruction of international credibility," the opposition leader said, calling on the U.S. to both pressure Russia to halt the attacks and to boost its military assistance to the rebels.
Before it's here, it's on the Bloomberg Terminal.
LEARN MORE