Rajan Explains `One-Eyed Man' Growth Remark After India Backlash
Ministers had disagreed, citing world-beating GDP growth

Rajan calls for more efforts to improve public dialogue
Indian central bank Governor Raghuram Rajan clarified a remark that drew criticism from several government officials as uncertainty remains over whether his three-year term will be extended beyond August.
While speaking with a reporter in the U.S. last week, Rajan used a proverb to characterize India's relatively faster growth in a weak global economy, saying: "In the land of the blind, the one-eyed man is king."
The remark drew rebukes from members of Prime Minister Narendra Modi's government. Junior Finance Minister Jayant Sinha said he disagreed with the comment and called India a "shining star." Commerce Minister Nirmala Sitharaman said Rajan should have chosen his words more carefully.
"My intent was to signal that our outperformance was accentuated because world growth was weak, but we in India were still hungry for more growth," Rajan told graduating students in the city of Pune on Wednesday. He said that "few read beyond the headline" and the implication took hold "that I was denigrating our success rather than emphasizing the need to do more."
Rajan called for more efforts toward improving public dialogue, urging speakers to avoid being gratuitously offensive while cautioning listeners to include context and "not to look for insults everywhere." He also offered an apology to the blind, saying that he was "sorry for implying the blind were otherwise than capable."
Rajan's relations with Modi's government are under scrutiny as speculation takes hold on whether he'll get an extension. Since taking charge of the central bank in 2013, Rajan has led the push for an inflation target, a monetary policy committee and moves to clean up the balance sheets of state-run banks.
Finance Minister Arun Jaitley has repeatedly declined to comment on the future of Rajan, who has also dodged questions on the topic. Modi's government has the authority to extend Rajan's term.
Nearly two years since a landslide election win, Modi is battling perceptions that his government has stifled free speech and the economy is surging mainly due to low oil prices. Modi offered a wide-ranging defense of his policies in a 40-minute speech at a Bloomberg event last month, saying that foreign investment has hit a record and credit growth is starting to pick up.
Rajan has bumped heads with Modi's government before, particularly after a speech last year in which he called for tolerance in public debates. The former finance professor has also been outspoken on global policy issues: Rajan has repeatedly censured global central banks for their continued use of unorthodox monetary policies, and former U.S. Treasury Secretary Lawrence Summers described his 2005 warning of the financial crisis as "Luddite."
Even while addressing the "one-eyed man" controversy, Rajan said India's potential growth is much higher than its forecast 7.6 percent expansion and that policy makers have more work ahead.
"As a central banker who has to be pragmatic, I cannot get euphoric if India is the fastest growing large economy," Rajan said. "Our current growth certainly reflects the hard work of the government and the people of the country, but we have to repeat this performance for the next 20 years before we can give every Indian a decent livelihood."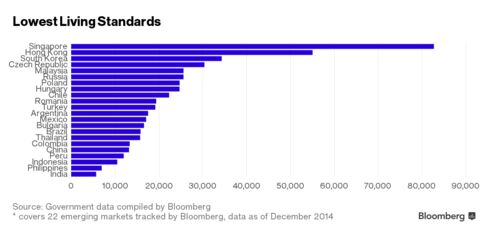 Before it's here, it's on the Bloomberg Terminal.
LEARN MORE