Pound Ends Three-Day Gain as U.K. Wage Growth Unexpectedly Slows
Sterling also weakens as U.K. unemployment increases

Carney says impact of Brexit on economy would be `unhelpful'
The pound halted three days of gains versus the dollar as reports showed a measure of U.K. wage growth unexpectedly slowed and unemployment rose for the first time in seven months.
Sterling was little changed after reaching its strongest level versus the greenback this month on Tuesday. People looking for work climbed by 21,000 to 1.7 million in the three months through February, the Office for National Statistics in London said on Wednesday. That left the jobless rate unchanged at 5.1 percent, as forecast by economists. Total pay growth slid to an annual 1.8 percent from 2.1 percent in the prior period, reflecting a drop in financial-sector bonuses from a year earlier.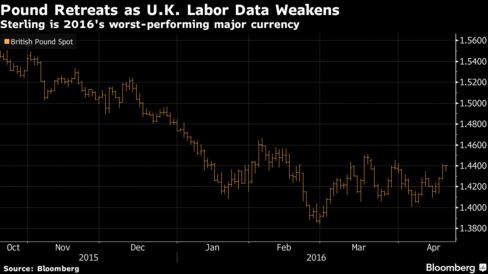 The pound, the worst-performing major currency this year as it U.K.'s European Union referendum approaches in June, found some respite earlier this week with a rally in global stocks and crude prices. Yet traders remain preoccupied with the potential for further losses in sterling as the vote approaches.
In comments to a House of Lords hearing Tuesday, Bank of England Governor Mark Carney said that the impact on the U.K. economy of Britain leaving the EU would be "unhelpful."
'Economic Stagnation'
"Overall it appears that the period of economic stagnation that Carney referred to yesterday continues to extend," said Jeremy Stretch, head of foreign-exchange strategy at Canadian Imperial Bank of Commerce in London. "If we see a weak retail sales report tomorrow, sterling up at these levels looks far too high, even if the polls are showing modest gains for the remain campaign at this point."
The pound was at $1.4403 as of 4:07 p.m. London time, after climbing 1.7 percent in the previous three days. Sterling appreciated 0.2 percent 78.71 pence per euro, and earlier touched 78.67 pence, the strongest level since March 30.
A TNS poll Wednesday found 38 percent of Britons would vote for the U.K. to remain in the union, compared with 35 in April. The poll showed 34 percent opting for a Brexit if the vote was held today, versus 35 percent in the previous survey.
Risk Reversals
The premium for three-month contracts hedging against sterling losses versus the dollar compared with those protecting against gains climbed to 4.79 percentage points on April 11, the highest since Bloomberg began compiling the risk-reversals data in 2003. It had eased to 4.53 percentage points on Wednesday. While the pound rallied earlier this week, it's down against its 16 major peers over the past month.
BOE officials kept the benchmark interest rate at a record-low 0.5 percent last week, where it's been since March 2009, and said they considered the implications of a Brexit in making its decision. Policy maker Ian McCafferty said Wednesday weaker-than-anticipated wage growth may prove temporary and he's ready to begin voting for rate increases again when he sees signs of a turnaround in price.
"With political concerns dominating price action and data somewhat mixed," pound recovery trades "will likely require a degree of patience," BNP Paribas foreign-exchange analysts, led by Steven Saywell, global head of currency strategy, wrote in a research note Wednesday.
Before it's here, it's on the Bloomberg Terminal.
LEARN MORE