Italy Bank-Rescue Fund Not Ready to Back Pop. Vicenza IPO
Atlante fund needs regulatory approvals by May 6, bank says

UniCredit chief Ghizzoni confident that IPO will go ahead
Banca Popolare di Vicenza SpA said Italy's bank-rescue fund faces several hurdles before it can commit to supporting the lender's plan to raise as much as 1.8 billion euros ($2 billion) in a public offering to ensure survival.
A plan for the Atlante fund to replace UniCredit SpA as the buyer of any unsold shares in the IPO depends on it raising a minimum 4 billion euros and gaining a number of approvals from the market regulator by May 6, the bank said in a statement on Wednesday.
"Given the systemic importance of the deal and the willingness of regulators and government to find a solution, it will get done in some way," said Emanuele Vizzini, who manages 3.5 billion euros as chief investment officer at Investitori Sgr in Milan. "That said, this can't be assessed as an investment case, given the uncertainty regarding the bank's valuation, who will take final control and what will happen to its assets."
Government and bank officials agreed last week to set up Atlante with funding from banks, insurers and institutional investors, to assist troubled lenders in their recapitalizations and to buy bad debt. UniCredit, the sole guarantor of the IPO, on Monday said the fund agreed to buy any unsold shares in Pop. Vicenza's capital raising.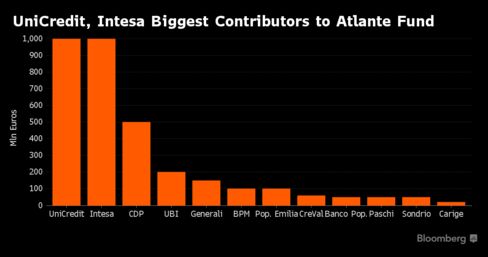 Pop. Vicenza set a symbolic IPO price of 10 cents to 3 euros a share on Tuesday after saying few investors expressed interest in the sale. The European Central Bank warned that without a capital increase, the lender would need to draw on creditor funds to bolster its buffers.
"I'm extremely confident that the share sale will be realized," UniCredit Chief Executive Officer Federico Ghizzoni told reporters on the sidelines of an event in Milan Wednesday. "The authorization process is started, I'm sure it will be concluded positively."
Quaestio, Atlante's operator, needs approval from the regulator, Consob, to act as sub-underwriter in the offering. It must also gain exemptions from regulations regarding the size of the bank's free float and any obligation to make an offer to buy the entire company. Atlante would purchase as much as 1.5 billion euros of shares priced at the bottom of the range set by the bank, according to Wednesday's statement.
"The fund has been set up too hastily and too late, adding risks to execution," Investitori's Vizzini said.
Before it's here, it's on the Bloomberg Terminal.
LEARN MORE