Camden Yards Agency Begins Bond Deluge for Baltimore Schools
Stadium authority to issue as much as $1.1 billion of debt

Riven by riots and poverty, a move to fix tattered buildings
Maryland is tapping the developer of the iconic Oriole Park at Camden Yards to finance the rebuilding of Baltimore's most derelict public schools, some of which are more than a half-century old.
The $320 million bond sale Wednesday was the first of as much as $1.1 billion to be sold by the Maryland Stadium Authority, which is using annual payments from the state, the city and its school district to cover the debt. The proceeds will renovate and repair about two dozen schools in the poverty-riven city, which erupted in riots and protests last year after a young black man died from injuries sustained in police custody. The stadium authority is also helping raise funds to demolish thousands of vacant buildings that blight Baltimore's neighborhoods.
"This is an important moment for Baltimore," said state Senator Bill Ferguson, a Democrat who represents parts of the city and has criticized the condition of the schools. "We're rebuilding our schools, but we're rebuilding our communities as well."
One-time industrial cities across the U.S. have struggled to maintain schools after decades of population losses eroded their tax bases, most notably in Detroit. By 2012, more than 23 percent of Baltimore's schools had been built before 1946, with some posing a risk to students from mold, lead paint, exposed wires, poor ventilation and damage from fires and vandalism, according to a report that year from Jacobs Project Management Co., which helped spurred state and local officials to act.
Since peaking at 193,000 students in 1969, enrollment declined to 81,300 students in 2008, recovering slightly to around 85,000 since. The lower enrollment brought less state aid for a system that had nearly twice as much space as it needed -- 183 buildings on 163 campuses, causing some to lapse into disrepair.
In an effort rejuvenate the school system, AAA rated Maryland, the wealthiest U.S. state, three years ago enacted legislation to provide the stadium authority with $60 million a year that it could borrow against. The funding is divided between the state, the city and its schools and will be used to build or refurbish 23 to 28 buildings.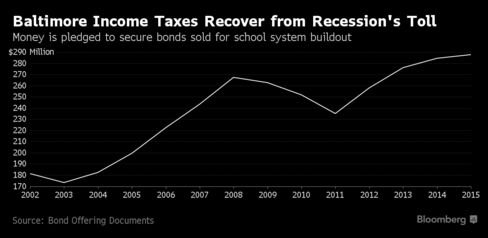 The authority oversaw the construction of the stadium in the heart of the city for Major League Baseball's Baltimore Orioles at the former railroad complex known as Camden Yards. Since the stadium opened in 1992, it's developed more than 20 other projects., including M&T Bank Stadium for the Baltimore Ravens National Football League team.
"A lot of the reason we were chosen to do this is because we have a reputation for being able to finance complex deals and bring the projects in under budget and on time," David Raith, chief financial officer for the authority, said in an interview.
To back the securities, the state is contributing mainly lottery proceeds, while the school district is using aid received from the state. The city agreed to increase its tax on bottled beverages to cover its share, a proposal pushed by Mayor Stephanie Rawlings-Blake, who is not seeking re-election after six years in office. The city is also providing rent and table-game proceeds it receives from the Caesars Entertainment Corp. casino that opened in 2014.
"The city's schools are the oldest in the state and they show it, and a number just need to be demolished," said Howard Libit, the mayor's spokesman.
The city also agreed allow the stadium authority to tap into city income-tax collections if other sources of revenue fail to provide enough to cover debt service. That secured the bonds ratings of Aa3 from Moody's Investors Service and AA- from Standard & Poor's, the fourth-highest investment grades. Fitch Ratings pegs them AA, one step higher.
The securities were sold for a top yield of 2.79 percent on 30-year debt, about 0.3 percentage point less than comparably rated revenue bonds, according to data compiled by Bloomberg.
"My concern was being able to repay these bonds over 30 years if one of these sources dried up," said Raith, the authority CFO. "I wouldn't take on a deal if I didn't know for sure how the bondholders were going to get paid."
Before it's here, it's on the Bloomberg Terminal.
LEARN MORE