BOE's McCafferty Says His Vote to Hold Rate May Be Short-Lived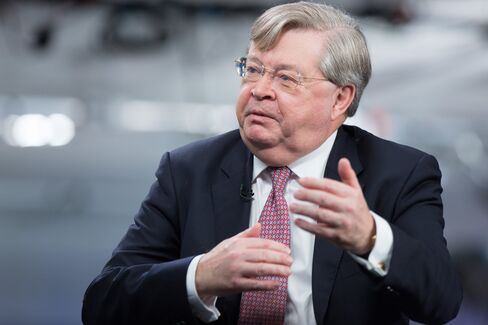 Subdued wages could pick up quickly alongside inflation

Monetary Policy Committee member speaks in London on Wednesday
Bank of England policy maker Ian McCafferty said weaker-than-anticipated wage growth may prove temporary and he's ready to begin voting for rate increases again when he sees signs of a turnaround in price pressures.
"I continue to expect the ongoing process of normalization to proceed and for the economy to continue to recover, as well as for consumer price inflation to revert to our 2 percent target," McCafferty said in a speech at the BOE in London. "The change in my policy position is more one of timing than any root-and-branch change in my thinking about the fundamental outlook for the economy."
McCafferty, who voted for an increase in the benchmark rate for six months, changed his stance in February, saying a pickup in wage growth would be more muted than previously expected. In the speech, he said his switch "might be relatively short-lived" if inflation starts to pick up again.
"Although the pick-up in wages as the labor market has tightened appears to have been interrupted by current low inflation, once CPI inflation starts to rise, behaviour is likely to revert, and wage inflation may rise surprisingly quickly in response," McCafferty said.
'Material Impact'
Developments in the labor market have been key for BOE policy makers deciding when to lift the key rate from a record-low 0.5 percent, where it's been stuck for more than seven years. Data on Wednesday showed unemployment rose in the three months through February and pay growth remained at 2.2 percent.
McCafferty said that low inflation is having a "material impact" on wages. He added that wage-setting behavior is being more influenced by current inflation rather than expectations, which means it's likely to increase only as or after inflation picks up.
"Wage growth is becoming increasingly adaptive," McCafferty said. "If headline inflation were to pick up, or if we were confident that such a pickup was imminent, the speed with which wage growth responded would be key to the validation of my diagnosis and the outlook for monetary policy."
According to the central bank's latest economic forecasts published in February, inflation will reach 1 percent in early 2017 and 2 percent at the start of 2018. Consumer-price growth was at 0.5 percent in March.
Before it's here, it's on the Bloomberg Terminal.
LEARN MORE