Treasuries Decline as Inflation Bets Heat Up Amid Oil Recovery
Market-based inflation gauge rises by most in three weeks

TD recommends clients buy long-term inflation-linked debt
Treasuries fell as a rebound in oil prices strengthened the view that inflation will quicken in coming years.
A bond-market measure of inflation expectations over the next decade climbed by the most in three weeks. Crude oil recovered from its drop Monday following a breakdown in supply negotiations in Doha.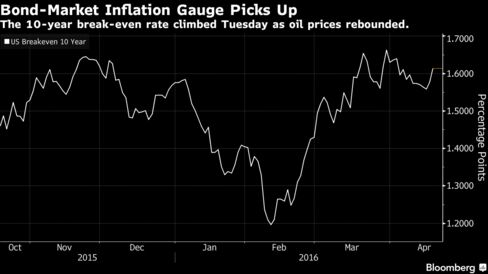 With energy prices climbing even as producers struggle to reach an output agreement, Treasury traders are starting to bet crude oil has hit bottom. That raises the likelihood that inflation will pick up in coming years, which would erode the value of bonds.
"A sustained rebound in oil prices would certainly pressure the Treasury market, because it would suggest higher inflation down the road," said Gennadiy Goldberg, a New York-based interest-rate strategist for TD Securities (USA) LLC.
The yield on benchmark 10-year Treasury notes rose one basis point, or 0.01 percentage point, to 1.79 percent as of 5 p.m. in New York. The 1.625 percent security due in February 2026 fell 1/8, or $1.25 per $1,000 face amount, to 98 18/32.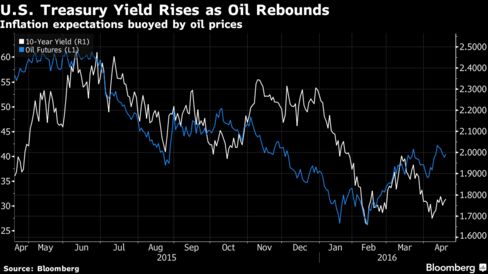 As oil prices recover, Goldberg and his colleagues at TD Securities say long-term inflation-linked debt will gain. They told their clients to buy 10-year Treasury Inflation-Protected Securities in mid-March. They also recommend investors bet on gains in 30-year TIPS and declines in 5-year inflation-linked debt.
The 10-year break-even rate, derived from the yield difference between 10-year notes and equivalent securities protected against rising consumer prices, rose 4 basis points to 1.62 percentage points on Tuesday, the biggest climb since March 30. Crude oil futures rose for the first time in five days amid a labor strike in Kuwait.
The Federal Reserve is targeting a 2 percent annualized pace for price gains as it seeks to raise interest rates.
Investors skeptical about the outlook for economic growth and inflation have bolstered demand for fixed-income assets, propelling Treasuries due in 10 years or more to a return of more than 6 percent this year, according to data compiled by Bloomberg.
Bond yields worldwide have plunged as central banks in Europe and Japan implemented negative interest rates to boost flagging economies, pushing investors into longer-dated debt and toward the higher comparative yields offered by U.S. securities. German 10-year bunds yielded 0.17 percent Tuesday.
"The biggest thing it does for the Fed is the anchoring effect with respect to long-term rates," said Mike Schumacher, head of interest-rate strategy at Wells Fargo Securities LLC, one of 23 primary dealers that trade with the Fed.
Officials "would like to boost short-term rates and see long-term rates not move that much, since that means mortgage rates won't go up a whole lot," Schumacher said from New York. "So in some strange way, having 10-year bunds yield next to nothing does a service for the Fed."
Before it's here, it's on the Bloomberg Terminal.
LEARN MORE