When Will S&P 500 Reach 2,500? Deutsche Bank Says 2018: Chart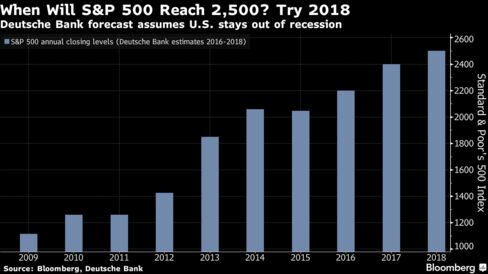 Three more years of higher prices may lie ahead for U.S. stocks as long as the economy stays out of recession, according to David Bianco, Deutsche Bank AG's chief U.S. equity strategist. Bianco wrote in a report Friday that he expects the Standard & Poor's 500 Index to close at 2,200 this year, 2,400 next year and 2,500 in 2018. "However, the next bear market could erase all further gains from this cycle," Bianco wrote.
Before it's here, it's on the Bloomberg Terminal.
LEARN MORE